Thai protesters cut off power to PM's office, military rejects calls for support
Protesters cut off electricity to the Thai prime minister's office compound yesterday and demanded that police abandon the premises, piling fresh pressure on the government in a political crisis that has dragged on for weeks.
The protesters, seeking to force the replacement of Thai Prime Minister Yingluck Shinawatra's government before the Feb. 2 elections, have threatened to force their way in if police do not leave. Police attempts to negotiate were rebuffed, but they did not withdraw immediately.
An Associated Press photographer inside one of the buildings said electricity had been cut off to the press office. Police confirmed that power had been cut to some buildings in the compound, collectively called Government House.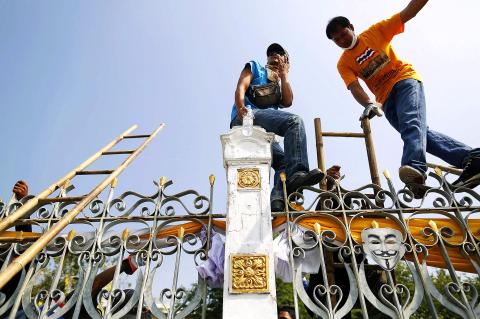 Anti-government protesters yesterday climb the fence to leave the compound of the Thai prime minister's office in Bangkok after removing barbed wires installed by the police.
Photo: Reuters
Yingluck was not in her office at the time, and shortly afterward gave a televised address from an unidentified location, in which she announced a meeting on Sunday of representatives of all sections of society to try to find a solution to the crisis.
The protest leadership has demanded a meeting with senior military and police officials, a call which has so far been rejected.
The politically powerful army has staged or attempted 18 coups in the past 80 years, including the ousting of Yingluck's brother, former Thai prime minister Thaksin Shinawatra, in 2006, but it has said it does not want to get involved this time although it may mediate.
"The chief of the armed services will not meet Mr Suthep today," deputy army spokesman Werachon Sukondhapatipak said, referring to the leader of the protests, Suthep Thaugsuban, who wants an unelected "people's council" to run the country.
It was not immediately clear if the police chief would meet Suthep, but this appeared unlikely as the police are traditionally aligned with Thaksin.
Protest leaders did meet at a hotel with business leaders in what was billed as an effort to explain their goals.
In a previous confrontation, police withdrew from the prime minister's compound to allow the demonstrators in without a fight. That withdrawal came after two days of increasingly violent standoffs.
Since the latest unrest began last month, five people have died and nearly 300 were injured.
Looking for a way out of the crisis, Yingluck dissolved the lower house of parliament on Monday and called for early elections.
However, her foes insist she step aside to make way for an interim appointed government, an action that cannot be taken under the country's constitution.
Comments will be moderated. Keep comments relevant to the article. Remarks containing abusive and obscene language, personal attacks of any kind or promotion will be removed and the user banned. Final decision will be at the discretion of the Taipei Times.