DPP lawmakers criticize minister's aviation decision
Minister of Transportation and Communications Yeh Kuang-shih (葉匡時) was harshly criticized in the Legislative Yuan yesterday for submitting the flight plans of the Taiwanese airlines to Chinese authorities after Beijing unilaterally declared a new air defense identification zone (ADIZ), with lawmakers saying Yeh has no backbone.
The US and Japan have refused to recognize China's ADIZ, with the former flying two B-52 bombers over disputed islands in the East China Sea and the latter asking its airlines not to send their flight plans to China.
Yeh said China's ADIZ does not involve trespassing into the nation's airspace or sovereignty, adding that a line of Taiwan's ADIZ is very close to Shanghai.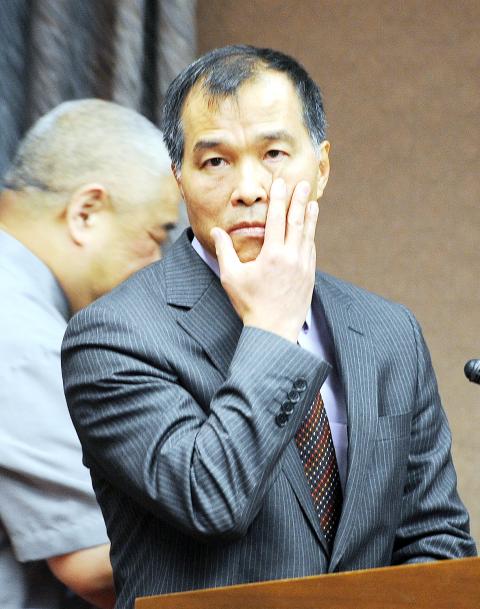 Minister of Transportation and Communications Yeh Kuang-shih attends a question-and-answer session at the Legislative Yuan in Taipei yesterday, where he was challenged over the government's response to China's imposition of a new air defense identification zone in the East China Sea.
Photo: Lo Pei-der, Taipei Times
"The zone allows a country to know in advance if any unidentified aircraft is approaching to avoid any misunderstanding. It is purely designed from the perspective of air defense. In view of the safety of our civil aviation flights, we will follow the rules of the International Civil Aviation Organization [ICAO] and give our flight plans to China. Likewise, China needs to submit its flight plans to us," Yeh said.
Singapore and the Philippines have also given the flight plans of their airlines to China, and about a dozen countries have also declared ADIZs, he said.
However, China's controversial move was unwise because it could easily lead to disputes, he said.
Taiwan would follow the ICAO regulations, he said.
Yeh's answers failed to appease lawmakers.
Democratic Progressive Party (DPP) Legislator Lee Kun-tse (李昆澤) said China's new ADIZ covers a large part of East China Sea and was a military expansion.
While the Japanese Ministry of Land, Infrastructure, Transport and Tourism had asked Japanese airlines not to report their flight plans to China, the Ministry of Transportation and Communications had decided to voluntarily comply without a hint of defiance, Lee said.
"The Civil Aeronautics Administration might as well be annulled. We should let China's Air Traffic Management Bureau do the job," he said.
DPP Legislator Yeh Yi-jin (葉宜津) said that sovereignty determines the range of an ADIZ and the government's response has made it appear that Taiwan is acquiescing to China's requests.
DPP Legislator Tsai Chi-chang (蔡其昌) asked why Japan, South Korea and the US had ignored China's request if the move did not involve sovereignty issues.
"Do not we have our own strategic considerations for national defense? Have Japan, the US and South Korea failed to the follow ICAO regulations by ignoring China's request?" Tsai said.
He asked Yeh if the government would follow Tokyo and Seoul's example.
Yeh said his ministry would abide by the National Security Council's decision.
"The council will make an overall review in terms of our country's long-term strategic interests," Yeh said, adding that the ministry will respect the council's directive.
However, Tsai said Taiwan's situation was very different from the one faced by Singapore and the Philippines, and it was unacceptable that the nation did not even dare protest against China's move.
Additional reporting by CNA
Comments will be moderated. Keep comments relevant to the article. Remarks containing abusive and obscene language, personal attacks of any kind or promotion will be removed and the user banned. Final decision will be at the discretion of the Taipei Times.