Thai political protests paralyze more ministries
Thai opposition protesters besieged several more ministries in Bangkok yesterday to try to topple the government, as Thai Prime Minister Yingluck Shinawatra faced a no-confidence motion in parliament and warned against "mob rule."
Tens of thousands of demonstrators have rallied against Yingluck and her brother, ousted Thai prime minister Thaksin Shinawatra, in the biggest street protests since 2010, when more than 90 people were killed in a military crackdown.
Demonstrators surrounded the interior, agriculture, transport, and sports and tourism ministries, ordering officials inside to leave, a day after occupying the finance and foreign ministries.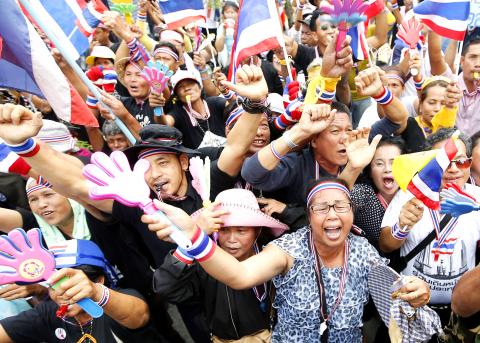 Thai anti-government protesters shout slogans during a rally occupying the Finance Ministry in Bangkok, Thailand, yesterday.
Photo: EPA
The turmoil has caused international concern and raised fears of fresh street violence in a country that has been rocked by several episodes of political unrest since royalist generals overthrew Thaksin in a 2006 coup.
The billionaire telecom tycoon-turned-politician draws strong support from many of the country's rural and urban working class, but he is loathed among the elite and the middle classes, who accuse him of being corrupt and a threat to the monarchy.
Several thousand protesters, waving Thai flags and blowing whistles, marched to the interior ministry, which was guarded by hundreds of security personnel, according to a reporter at the scene.
Apart from the Thai Ministry of the Interior, most government buildings taken over had only a light security presence outside.
However, security has been tightened on Bangkok's streets since the expansion late on Monday of the Internal Security Act, which gives authorities additional powers to block routes, impose a curfew, ban gatherings and carry out searches.
A Thai court yesterday approved an arrest warrant for protest leader Suthep Thaugsuban — who resigned from the opposition Democrat Party to head the rallies — in connection with the occupation of government buildings.
"I ask him to surrender, otherwise police can arrest him on sight," said Colonel Sunthorn Kongklam of Bang Sue police station in the capital.
Yingluck yesterday reiterated that authorities would "absolutely not use violence" as she arrived at parliament, which was guarded by dozens of police.
The ruling Puea Thai party, which holds a comfortable majority, is expected to win the censure vote expected later in the week.
Adding to tensions in the capital, an unexploded hand grenade was yesterday discovered outside a Democrat Party office in Bangkok, police said.
Comments will be moderated. Keep comments relevant to the article. Remarks containing abusive and obscene language, personal attacks of any kind or promotion will be removed and the user banned. Final decision will be at the discretion of the Taipei Times.