Four men indicted over drug-laced 'stamps'
Four men were indicted on Wednesday for trafficking drug-laced squares of paper disguised as postal stamps to the US and South Africa using an express air service.
Prosecutors said the suspected mastermind behind the operation was Kung Ling-hau (孔令豪), 51, with Lin Hsin-cheng (林鑫政), who has a degree in chemical engineering, as his main accomplice.
Kung and Lin began manufacturing two "designer drugs" — MDPBP (a stimulant discovered in the 1960s) and 25B-NBOME (a psychedelic discovered in 2004) — in July last year in a laboratory at Kung's company in Greater Taichung, prosecutors said.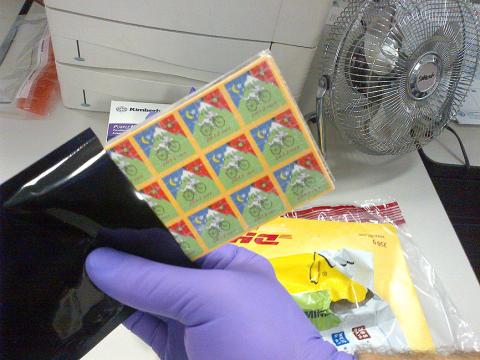 A set of drug-laced "stamps" are seen in a photograph taken on Tuesday.
Photo: Yang Cheng-chun, Taipei Times
The accused soaked stamp-like squares of paper with MDPBP and 25B-NBOME, which were then dried and sold, prosecutors said.
Users place the stamps in their mouth to get high. Prosecutors said such papers are quite popular in dance clubs and bars.
Kung owns a security guard service company, prosecutors said, while Lin made use of his chemical engineering know-how to access information from US Web sites on developing new recreational drugs.
According to the indictment, Lin has a record of arrests for selling illegal magic mushrooms and "yohimbe bark extract," known as the Viagra of herbal plants, to entertainers in Taipei and to wealthy people in the high-tech industry in the Hsinchu area.
The pair were arrested in January and indicted by prosecutors on Wednesday for violating the Pharmaceutical Affairs Act (藥事法).
The indictment said Kung sold about 4,000 sheets, each containing 25 laced stamps, to customers in the US and South Africa, shipping them by air express.
One US customer, identified only as David, reportedly made more than US$20,000 in profit from selling the drugs.
Kung is also accused of selling 172 sheets to Taiwanese, including 130 sheets that were sold to a man surnamed Chen (陳), and 42 sheets that were sold to a man surnamed Chang (張), who then mailed them to a Taiwanese friend living in South Africa. The customer in South Africa reportedly sold each stamp for between NT$500 and NT$1,500.
Chen and Chang were also indicted on Wednesday.
Both MDPBP and 25B-NBOME are classified as illegal drugs in most countries, and are strictly controlled by the US Food and Drugs Administration, local authorities said.
Taiwan's Food and Drug Administration said the two chemicals can induce hallucinations, flashbacks, mental psychosis, ecstatic highs, eccentric and deviant behavior, epileptic seizures, violence and even cause death.
Comments will be moderated. Keep comments relevant to the article. Remarks containing abusive and obscene language, personal attacks of any kind or promotion will be removed and the user banned. Final decision will be at the discretion of the Taipei Times.