Bachelet wins first round in Chilean presidential election
Socialist Michelle Bachelet handily won a first round of Chile's presidential race on Sunday, but despite a crushing margin of victory still faces a runoff vote against conservative rival Evelyn Matthei.
With 99 percent of the vote counted, Bachelet had nearly 47 percent against 25 percent for Matthei, Chile's Electoral Board said.
Bachelet failed to reach the 50 percent needed to avoid a runoff, so a second round of balloting is set for Dec. 15.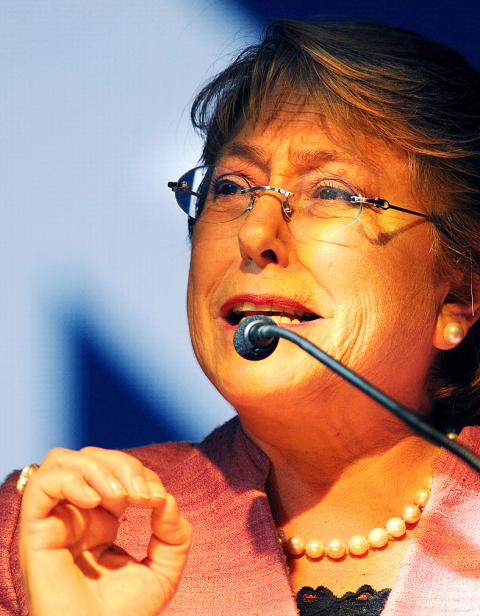 Chilean presidential candidate Michelle Bachelet delivers a speech to her supporters at the National Stadium in Santiago de Chile, Chile, on Sunday.
Photo: EPA
"We knew that it would be tough to win on the first round, we worked really hard, and we almost did it," Bachelet told supporters late on Sunday. "We did win tonight, and we are going to work hard to win comfortably in December."
Bachelet, Chile's first woman president from 2006 to 2010, is eyeing a second term as leader of the South American nation with the highest per capita income.
Matthei was relieved to have a second chance to reach out to voters.
"I am really pleased. We will have a runoff," she told reporters.
Both women are seeking to succeed conservative billionaire Chilean President Sebastian Pinera, who is barred from a consecutive re-election.
Trailing Matthei and Bachelet were independent economist Franco Parisi and Socialist Franco-Chilean filmmaker Marco Enriquez-Ominami, with about 10 percent each. The remainder of the vote was divided among five minor candidates.
A pediatrician by training, Bachelet, 62, wants to overhaul the country's political and economic system, a legacy of Augusto Pinochet's 1973-1990 military dictatorship.
She has pledged to bring a "new cycle" of reforms to reverse the country's wide income gap.
Bachelet wants to legalize abortion and raise business taxes to offer free university tuition, answering the demands of a powerful student movement that has led a series of massive protests since 2011.
Chile has the highest GDP per capita in Latin America — US$22,362 based on purchasing power parity — but half of the nation's 17 million people make less than US$500 per month.
The daughter of an air force general and a separated mother of three, Bachelet is supported by a "New Majority" alliance of socialists, Christian Democrats and communists.
Matthei, 60, is a former labor minister under Pinera and former legislator for the ultraconservative Independent Democratic Union (UDI). She was the first woman presidential hopeful nominated by Chile's right.
Matthei's father was also an air force general, and as children she and Bachelet played together on a military base in Chile's parched north.
However Bachelet's father died after being tortured for supporting slain leftist Chilean president Salvador Allende, while Matthei's father supported the dictatorship that came to power in a 1973 coup. Matthei has called for a continuation of the legacy of the unpopular Pinera, claiming that a back-to-Bachelet era would be a step backward.
Pinera took office when Bachelet's first term ended in 2010. She went on to head the UN office that promotes gender equality.
Preliminary results also show that Bachelet's coalition will have a simple majority in both chambers of congress.
Comments will be moderated. Keep comments relevant to the article. Remarks containing abusive and obscene language, personal attacks of any kind or promotion will be removed and the user banned. Final decision will be at the discretion of the Taipei Times.