Violent tornadoes kill six in US midwest
Residents in several US midwestern cities sifted through piles of rubble yesterday as they recovered from violent tornadoes that ripped through the region, killing at least six and injuring scores.
Flights were grounded on Sunday and tens of thousands of homes lost power as intense winds overturned cars, uprooted large trees and snapped power lines. Large swaths of the city of Washington, Illinois, were flattened.
US President Barack Obama was briefed about the storms and will receive regular updates, the White House said.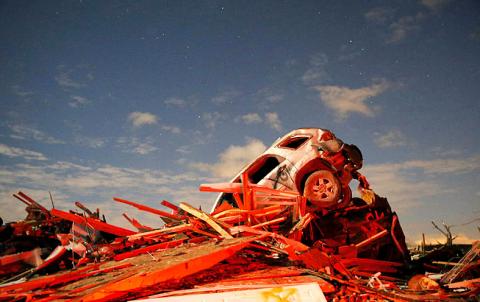 A vehicle sits on a pile of debris from the destruction caused by a tornado that touched down in Washington, Illinois, on Sunday.
Photo: Reuters
Patti Thompson of the Illinois Emergency Management Agency told local media that six people died when the storm system tore through her state.
The fast moving storm weakened overnight, but still caused damage as it marched east through New York and Philadelphia, the National Weather Service said.
The service predicted showers, thunderstorms and windy conditions for much of the northeastern US yesterday, including hail and isolated tornadoes. However, they said the storm would likely be over by the afternoon.
At least two of the victims were killed in the small town of New Minden, Illinois, Washington County Coroner Mark Styninger said.
Joseph Hoy, 80, was found dead on his farm, while his 78-year-old sister Frances was pronounced dead in hospital.
"It just happened so fast," said Styninger, who lives just 3km from the Hoy farm.
Local television reported at least 37 people were being treated by a medical center in Illinois, seven of them with "severe" injuries.
Monken said at least 70 homes were completely destroyed in two different areas, and hundreds were damaged less severely. Four Red Cross shelters have been opened in the affected zone.
The dangerous weather caused the National Football League to suspend a game in Chicago, asking fans and players to take cover in the stadium. The game resumed almost two hours later.
In Indiana, local media reported damage to commercial buildings, including a destroyed bank branch.
More than 64,600 homes lost power, Duke Energy said. In the metropolitan area of the state capital Indianapolis, the local utility company reported nearly 16,000 without power.
"Absolute destruction," wrote WMBD31 news reporter Alexandra Sutter on Twitter in describing the scene.
Sutter later tweeted, after speaking with the mayor of the storm-hit town of Washington: "I asked what we can report to help. He said only: 'Please pray.'"
The CBS television affiliate for central Illinois where she works said that its studio, which also hosts the local Fox affiliate, lost signal after a power hit to its transmitter.
"Pay attention to all weather alerts and stay home and inside if possible," Illinois Governor Pat Quinn warned residents, adding that the severe weather was "very serious."
In the town of Washington, Michelle Cumrine came back from a trip to find that her house was completely gone.
"Our house was just beyond the deck," Cumrine said in disbelief as she stared at the rubble. "A lot of people have a pile of rubble still. I don't have anything. It's gone. I don't know where it went."
Comments will be moderated. Keep comments relevant to the article. Remarks containing abusive and obscene language, personal attacks of any kind or promotion will be removed and the user banned. Final decision will be at the discretion of the Taipei Times.