Aid reaches survivors of deadly Philippine typhoon
Substantial food and medical aid yesterday finally began reaching desperate survivors of a super typhoon that killed thousands in the Philippines, but humanitarian groups warned of huge challenges in accessing devastated, remote communities.
The unprecedented ferocity of Super Typhoon Haiyan on Nov. 8 and the scale of destruction it caused had completely overwhelmed the initial relief effort, leaving millions in the worst-hit central islands of Leyte and Samar hurt, homeless and hungry, with no power or water.
Eight days later, a working aid pipeline was in place on the ground, funneling emergency supplies to those left destitute in the ruins of Leyte's Tacloban city, while helicopters flying off the aircraft carrier USS George Washington brought some relief to outlying areas.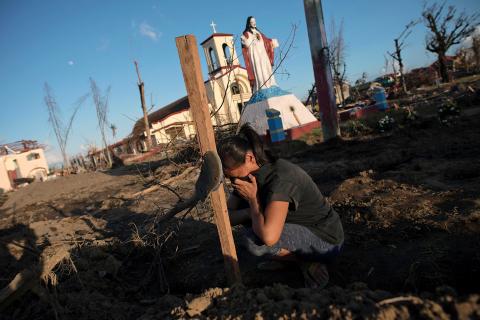 Marelom Cassanares, 37, with five children and no home, cries at the grave of her husband in the aftermath of Super Typhoon Haiyan in Palo, Philippines on Friday.
Photo: AFP
In Giporlos, a small coastal town of about 12,000 people in eastern Samar where the typhoon first struck, a US Seahawk helicopter flew in the first relief supplies yesterday, landing in the playground of a ruined elementary school.
"We're very happy even if it isn't really sufficient for us," resident Maria Elvie Depelco said.
"We accept a little, and we survive. Because there's no more food, no houses here," she said, pointing to the flattened remains of the town, where 12 people died.
In the nearby town of Guiuan, planes laden with supplies were landing and taking off every few minutes from an old military airstrip that had been reopened.
UN agencies said more than 170,000 family food packages had been distributed across the disaster zones, while the Red Cross and Medecins Sans Frontieres (Doctors Without Borders) said they would have mobile surgical units up and running in Tacloban by the end of the weekend.
"The place really needs to be saturated with relief," Red Cross Asia-Pacific spokesman Patrick Fuller said in Tacloban. "People literally have nothing. Money is useless here."
Since the arrival of the USS George Washington late on Thursday, the US military said it had delivered 118 tonnes of food, water and shelter items to Tacloban and elsewhere, and airlifted nearly 2,900 people to safety.
Although aid was arriving, relief officials described sanitary conditions in the covered sports stadium in Tacloban that served as the main evacuation center as appalling.
Children and the elderly remained particularly vulnerable, often unable to get to the relief distribution points opening in the city.
Comments will be moderated. Keep comments relevant to the article. Remarks containing abusive and obscene language, personal attacks of any kind or promotion will be removed and the user banned. Final decision will be at the discretion of the Taipei Times.