Wang Chien-ming outlines plan for MLB comeback
Former Toronto Blue Jays pitcher Wang Chien-ming (王建民) held a press conference in Taipei yesterday upon his return to Taiwan to update his fans on his recent activities and lay out his plans for the future.
Following the half-season in which former Major League Baseball (MLB) heavy hitter Manny Ramirez played for the EDA Rhinos and the announcement at the end of the season by Kuo Hung-chih (郭泓志), another Taiwanese baseball player that played in the MLB for the Los Angeles Dodgers, that he would be joining the Uni-President Lions team, many fans hoped Wang would soon join local baseball.
Wang's performance at the World Baseball Classic in Greater Taichung in March — which helped Taiwan qualify for the quarter-finals — and comments saying: "I'm grateful that Taiwan included me in its ranks. I am very lucky to be pitching in a stadium where many fans are rooting for the team," had also fueled this hope.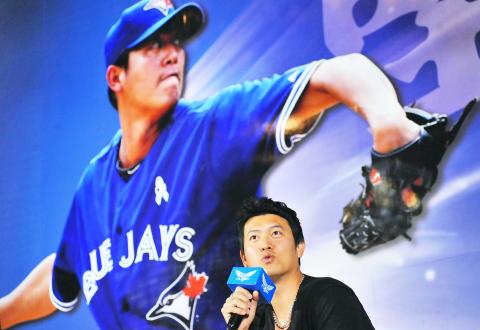 Former New York Yankees and Toronto Blue Jays pitcher Wang Chien-ming speaks at a press conference yesterday in Taipei.
Photo: Mandy Cheng, AFP
Responding to reports that Japanese team the Fukuoka SoftBank Hawks were planning to ask Wang if he would be interested in playing in Japan, the pitcher confirmed the team had approached him, but provided no further details.
Wang said he had rejected the initial approach and was not certain if Fukuoka general manager Sadaharu Oh would be heading further negotiations, adding that the training regimens for US and Japanese professional baseball were very different.
"I'm used to the US methods, and as I have been in the US for many years, it [staying in the US] is my first choice," Wang said.
However, Wang said that the offer to play in the Japanese league made him think of his former Toronto Blue Jays teammate Munenori Kawasaki, adding that although Kawasaki was up for fun off the pitch, he took his training very seriously.
The former New York Yankees ace said Kawasaki would often start warming up two hours before everyone else and would often ask him to join.
Wang said he was giving himself two more years to make some headway in the MLB and would be returning to the US before spring training, adding jokingly that if he did not, there would be no chance of returning to the US major leagues.
When asked if he would play for Taiwanese teams after the self-imposed two-year deadline, Wang said he would consider other options if he failed to progress in the MLB.
Comments will be moderated. Keep comments relevant to the article. Remarks containing abusive and obscene language, personal attacks of any kind or promotion will be removed and the user banned. Final decision will be at the discretion of the Taipei Times.