Laos plane crash kills 49, including one Taiwanese
Rescuers in fishing boats yesterday pulled bodies from the muddy Mekong River, as officials in Laos ruled out finding survivors from a plane that crashed in stormy weather, killing 49 people from 11 countries.
Taiwanese Ministry of Foreign Affairs spokeswoman Anna Kao (高安) said a man from Greater Tainan was among the 49 killed when a Lao Airlines ATR-72 turboprop plane crashed into the Mekong River in the southern part of the country on Wednesday.
Kao said that Taiwan's representative office in neighboring Vietnam has been in touch with the Taiwanese victim's relatives in Laos and his family in Taiwan.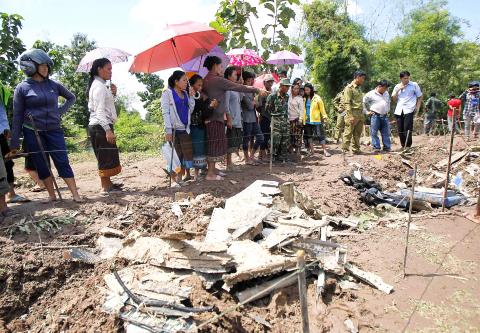 Villagers look at debris and luggage retrieved from the crash site of an ATR-72 turboprop plane, in Laos, near Pakse yesterday.
Photo: Reuters
If the man's family members in Taiwan want to fly to Laos, the ministry will offer them any assistance they need, Kao said.
As Taiwan does not have a representative office in the Southeast Asian country, the nation's representative office in Vietnam is handling the case, she added.
An official at the Taipei Economic and Cultural Office in Hanoi, Vietnam, told the Central News Agency that the Taiwanese victim was identified as Liu Chang-yu (劉長雨).
Liu, 32, traveled to Laos earlier this month to visit a cousin living there and purchase some products to be brought back to Taiwan, the official said.
At the crash site in Pakse, Lao's Department of Civil Aviation Director-General Yakao Lopangkao said: "We have found nine bodies so far. At this point we don't know their nationalities."
"We haven't found the plane yet. It is underwater. We're trying to use divers to locate it," he said.
He ruled out finding survivors.
"There is no hope. The plane appears to have crashed very hard before entering the water," he said.
Some of the bodies were found by fishermen floating downstream as far as 20km from the crash site, he said.
"We have asked villagers and people who live along the river to look for bodies and alert authorities when they see anything," he said.
Fleets of small boats and inflatable rafts plied the muddy, vast waterway as part of the search, with men in life vests peering into the water.
Thailand, which borders Laos, sent 30 scuba divers to help in the search for bodies, Thai foreign ministry spokesman Sek Wannamethee said.
State-run Lao Airlines released an updated list of the 44 passengers' nationalities yesterday. It said the flight included 16 Lao nationals, seven French, six Australians, five Thais, three Koreans, two Vietnamese and one person each from Canada, China, Malaysia, Taiwan and the US.
The area is off the main tourist circuit in Laos, but known for its remote Buddhist temples, nature treks and waterfalls. Cambodian authorities said one of the plane's pilots was a 56-year-old Cambodian with more than 30 years' flying experience. Details of the crash remained murky.
Lao Airlines said in a statement on Wednesday that the plane took off from the capital, Vientiane, and "ran into extreme bad weather conditions" as it prepared to land at Pakse Airport.
The airline said it had yet to determine the cause of the crash of the ATR-72 aircraft, which had just been delivered in March. French-Italian aircraft manufacturer ATR said in a statement that "the circumstances of the accident are still being determined."
Additional reporting by CNA
Comments will be moderated. Keep comments relevant to the article. Remarks containing abusive and obscene language, personal attacks of any kind or promotion will be removed and the user banned. Final decision will be at the discretion of the Taipei Times.