US lawmakers start last-ditch efforts to avoid default
The US Senate prepared for a last ditch effort yesterday to avoid a historic lapse in the government's borrowing authority, a breach that US President Barack Obama has said could lead to default and deliver a damaging blow to the global economy.
After a day of stop-and-go negotiations, the top Democrat and Republican in the US Senate were said to be close to agreeing on a proposal to raise the debt limit — and reopen the partially shuttered government — for consideration by the full Senate later yesterday.
The measure's fate remained uncertain in the fractured Republican-controlled House of Representatives, which failed twice on Tuesday to produce its own plan.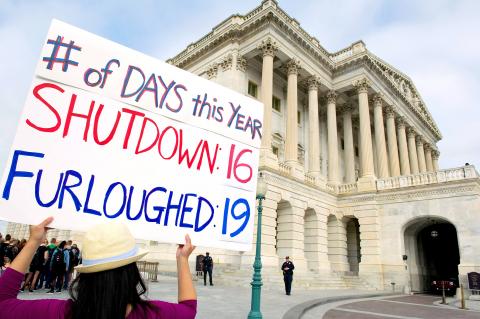 A furloughed government employee protests at the US Capitol yesterday in Washington, DC. US lawmakers embarked on another day of high-stakes political brinkmanship yesterday, battling to scrape together an eleventh hour deal to protect Washington's battered financial standing.
Photo: AFP
With borrowing authority set to run out today, Senate Majority Leader Harry Reid and Republican leader Senator Mitch McConnell "are very close" to an agreement, Representative Chris Van Hollen of Maryland, a top House Democrat, told MSNBC late on Tuesday night.
"I think folks on both sides of the aisle in the Senate are ready to get this done," Republican Senator Saxby Chambliss of Georgia told National Public Radio yesterday, a day after chaotic developments frayed the nerves of many members of Congress and global financial markets.
"Our assumption is that there will be a plan," John Chambers, chairman of S&P's Sovereign Ratings Committee, told CBS' This Morning program yesterday.
McConnell and Reid resumed stalled talks after a rollercoaster day that saw two separate legislative efforts in the House buried, after it became apparent too many Republicans were rebelling against their leaders' plans.
Following weeks of bitter fighting among Democrats and Republicans, the layoff of hundreds of thousands of federal workers and turmoil for stock markets, the deal under discussion — if eventually enacted — would basically give Obama what he has demanded for months: a straight-forward debt limit hike and government funding bill.
The deal would extend US borrowing authority until Feb. 7, although the US Department of the Treasury would have tools to temporarily extend its borrowing capacity beyond that date if Congress failed to act early next year.
Senate aides said the two leaders are looking at two possible ways of speeding the legislation through the chamber, which often can bog down for days with procedural hurdles.
Under one scenario, all 100 senators would agree to let Democrats schedule quick votes to pass the bill. That would mean that Tea Party firebrands, such as Republican Senator Ted Cruz, would give up their rights to delay a vote.
Cruz and fellow activists in the Tea Party movement late last month delayed passage of a government funding bill.
The deadlock led to federal agency shutdowns as Obama and his fellow Democrats stood firm against changing the law.
The other scenario would have the House send a formal "message" to the Senate to pave the way for quick Senate action, according to a Senate aide who asked not to be identified.
Uncertainty over Washington's ability to avert a default led Fitch Ratings to warn it could cut the sovereign credit rating of the US from "AAA," citing the political brinkmanship over raising the federal debt ceiling.
If Congress fails to reach a deal by today, checks would likely go out on time for a short while for everyone from bondholders to workers who are owed unemployment benefits.
Comments will be moderated. Keep comments relevant to the article. Remarks containing abusive and obscene language, personal attacks of any kind or promotion will be removed and the user banned. Final decision will be at the discretion of the Taipei Times.