Political division must be resolved: Xi Jinping
LANDMARK EVENT: Beijing is willing to negotiate with Taiwan under the 'one China' framework, the Chinese president told former vice president Vincent Siew in Bali
Chinese President Xi Jinping (習近平) highlighted the "one China" framework and the urgency of resolving the cross-strait political division so it would not be "passed on from generation to generation" in his meeting with former vice president Vincent Siew (蕭萬長) yesterday in Bali, Indonesia, ahead of the annual APEC summit.
"The longstanding political division between the two sides will have to be eventually resolved step-by-step as it should not be passed on generation after generation ... We have reiterated that we are willing to engage in reciprocal negotiations on bilateral political issues with Taiwan under the 'one China' framework," Xi was quoted as saying in a 30-minute closed-door meeting with Siew.
Taiwan and China should insist on walking the right path of peaceful development of cross-strait relations and advocate the concept that "both sides of the [Taiwan] Strait are of one family," Xi added.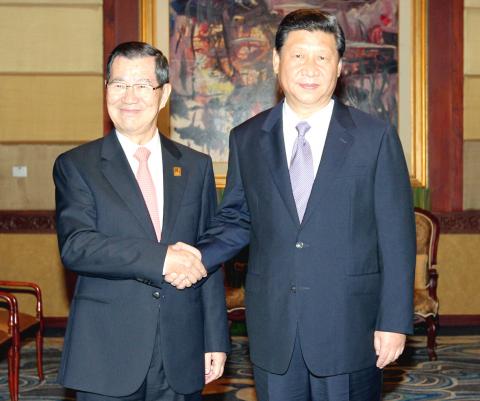 Former vice president Vincent Siew, left, shakes hands with Chinese President Xi Jinping yesterday before their meeting ahead of the APEC summit in Bali, Indonesia.
Photo: CNA
Siew — who represented President Ma Ying-jeou (馬英九) in his capacity as chairman of the Cross-Straits Common Market Foundation in the meeting, held before the two-day official leaders' summit begins today — and Xi referred to each other as "Mister" rather than by any official title in their opening remarks, the only part of their meeting that was open to the media.
Siew underlined the so-called "1992 consensus" as the foundation of bilateral negotiations in the past five years since Ma took office and called for strengthening and deepening cross-strait engagement, including institutionalized economic cooperation and participation in regional economic integration, according to a Mainland Affairs Council (MAC) press release issued yesterday afternoon.
Separately yesterday, MAC Minister Wang Yu-chi (王郁琦) and his Chinese counterpart, Taiwan Affairs Office Director Zhang Zhijun (張志軍), addressed each other by their official titles in a meeting that took place on the APEC sidelines.
The council has never sent its minister to the annual summit and has been an invisible presence in past summits as it only dealt with preparatory works.
Wang and Zhang briefly interacted at the hotel lobby where the meeting was held and greeted each other by their official titles of minister and director.
Both Wang and Zhang called for the establishment of a regular dialogue mechanism between their two agencies to enhance mutual understanding and facilitate cross-strait engagement.
Zhang invited Wang to visit China, adding that he would be more than pleased to make a visit to Taiwan "if given a chance."
"As those responsible for cross-strait relations, we should increase interaction to boost mutual understanding and promote bilateral ties," Zhang said.
When people on both sides of the Strait are visiting each other so frequently, "it does not seem right" that the two top officials in charge of cross-strait affairs do not see each other, Zhang said.
"It would be fruitful for us to keep up with the popular trend," he added.
Wang echoed the sentiment, saying that Taiwanese lawmakers' delay in approving a cross-strait service trade pact indicates that there are many outstanding bilateral issues that need to be addressed.
The MAC said in a statement later yesterday that Wang and Chang's addressing each other by their official titles "marked a good beginning for bilateral official engagement."
"It was a practice of both sides' pragmatism and mutual non-denial," the statement said.
However, China's Xinhua news agency still referred to Wang as "Taiwan's official responsible for Mainland affairs" on its Web site yesterday.
The Presidential Office did not respond to Xi's remarks.
Additional reporting by Peng Hsien-chun and CNA
Comments will be moderated. Keep comments relevant to the article. Remarks containing abusive and obscene language, personal attacks of any kind or promotion will be removed and the user banned. Final decision will be at the discretion of the Taipei Times.