West could attack Syria within days, envoys tell rebels
PUNISHMENT: The US said its forces are 'ready to go,' while the Arab League held al-Assad responsible for the recent chemical attack
Western powers could attack Syria within days, envoys from the US and its allies told rebels fighting Syrian President Bashar al-Assad, sources who attended the meeting said yesterday.
US forces in the region are "ready to go," US Secretary of Defense Chuck Hagel said, as Washington and its European and Middle Eastern partners honed plans to punish al-Assad for a major poison gas attack last week that killed hundreds of civilians.
Several sources who attended a meeting in Istanbul, Turkey, on Monday between Syrian opposition leaders and diplomats from Washington and other governments said that the rebels were told to expect military action and to get ready to negotiate a peace.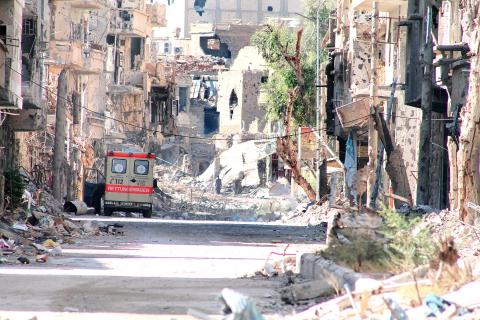 A general view shows a heavily damaged street in Syria's eastern town of Deir Ezzor on Monday. Syria's opposition accused pro-regime forces of opening fire at UN weapons inspectors on their way to a suspected chemical weapons site outside Damascus in a bid to hinder their investigation.
Photo: AFP
"The opposition was told in clear terms that action to deter further use of chemical weapons by the [al-]Assad regime could come as early as in the next few days, and that they should still prepare for peace talks at Geneva," one of the sources said.
Syrian National Coalition president Ahmad Jarba met envoys from 11 states in the Friends of Syria group, including US Ambassador to Syria Robert Ford, at an Istanbul hotel.
UN chemical weapons investigators, who finally crossed the frontline to take samples on Monday, put off a second trip to rebel-held suburbs of Damascus. However, Washington said it already held al-Assad responsible for a "moral obscenity" and US President Barack Obama would hold him to account for it.
However, with Russian and Chinese opposition complicating efforts to satisfy international law — and Western voters wary of new, far-off wars — Western leaders may not pull the trigger just yet. British Prime Minister David Cameron called parliament back from its summer recess for a session on Syria tomorrow.
He and Obama, as well as French President Francois Hollande, face tough questions about how an intervention, likely to be limited to air strikes, will end — and whether they risk handing power to anti-Western Islamist rebels if al-Assad is overthrown.
In an indication of support from Arab states that may help Western powers argue the case for war against UN vetoes from Moscow and Beijing, the Arab League issued a statement holding al-Assad's government fully responsible for the chemical attack.
Asked if US forces were ready to strike Syria just "like that," Hagel told the BBC: "We are ready to go, like that."
Comments will be moderated. Keep comments relevant to the article. Remarks containing abusive and obscene language, personal attacks of any kind or promotion will be removed and the user banned. Final decision will be at the discretion of the Taipei Times.