Weather bureau issues sea alert as storm approaches
The Central Weather Bureau (CWB) issued a sea alert for Tropical Storm Kong-Rey yesterday morning as it approached the nation's southeast coast. The sea alert applies to all vessels operating in the Bashi Channel or near the southeast coast.
The bureau added that it might issue a land alert early this morning, depending on the path of the storm.
At press time, the storm's center was 410km southeast of Oluanpi (鵝鑾鼻). It was moving northwest at 13kph, with the radius of the storm reaching 120km. The maximum wind speed near the storm's center was 101kph.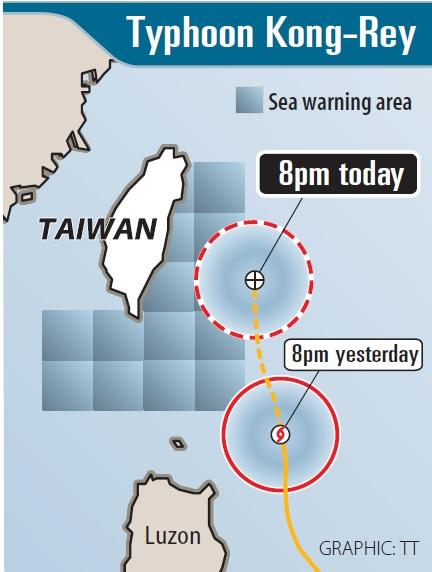 Bureau forecaster Lo Ya-yin (羅雅尹) said the storm has continued to move along the edge of a Pacific high-pressure system and will very likely pass near the nation's east coast.
"The nation is expected to come under the influence of the storm from Wednesday afternoon to Thursday morning," she said. "Based on our observation, the storm appears to be moving north, which could shift its path further east. If that happens, it would reduce the chances of having to issue a land alert."
Daniel Wu (吳德榮), former director of the bureau's weather forecast center who is now an adjunct associate professor of atmospheric sciences at National Central University, said the storm has very limited room to develop into a typhoon because it does not have a solid structure.
Wu said the radius of the storm was not likely to cover Taiwan proper and was likely to only move very close to it.
Although the storm is approaching the nation from the east, rainfall would be heaviest in central and southern regions, Wu said.
"If you look at the cloud chart, you will see that storm clouds are thicker in the southwest," he said. "Rainy weather is likely to continue from Wednesday afternoon until Thursday morning."
Meanwhile, the Dropsonde Observation for Typhoon Surveillance near the Taiwan Region (DOTSTAR) project was activated again yesterday afternoon to gather information on Kong-Rey. The six-hour observation from a jet plane allows scientists to examine data collected from an altitude of 13,000m, reducing the margin of error in forecasting by 8 percent to 20 percent.
The DOTSTAR project has been executed since 2003. During the past decade, the project has completed 66 observation assignments. This year, the project was jointly carried out by the bureau, the National Applied Research Laboratory, National Taiwan University and Aerospace Industrial Development Corp.
Comments will be moderated. Keep comments relevant to the article. Remarks containing abusive and obscene language, personal attacks of any kind or promotion will be removed and the user banned. Final decision will be at the discretion of the Taipei Times.