Power rate hike will affect few: MOEA
'NUMBERS GAME': Lawmakers opposed to the rate increase said Taipower should focus on improving its performance rather than shifting the burden to the public
The Ministry of Economic Affairs (MOEA) yesterday unveiled an adjusted version of its second phase of electricity rate increases, which it said would not affect more than 80 percent of households and small businesses.
The ministry's new plan, scheduled to take effect in October, showed that 9.85 million households — or 85.7 percent of the nation's 11.5 million households using less than 500 kilowatt-hours of electricity per month — would not be affected by the rate increase.
Electricity rates are to stay flat for about 710,000 small businesses — which accounts for 80.2 percent of the total — that consume 700kWh or less a month.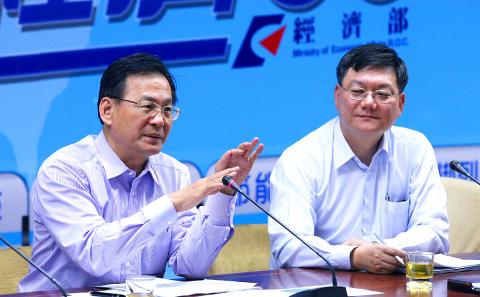 Taiwan Power Co chairman Hwang Jung-chiou, left, and Vice Minister of Economic Affairs Woody Duh explain the state-run company's revised pricing scheme to reporters at the ministry in Taipei yesterday.
Photo: CNA
"The new plan will be able to reflect soaring energy costs, while also easing the burden on the public and lowering the impact on local industries," Vice Minister of Economic Affairs Woody Duh (杜紫軍) told a press conference.
Under the ministry's plan, power rates will rise by between NT$47 and NT$94 a month for 910,000 households that consume between 50kWh and 700kWh. Households consuming between 701kWh and 1,000kWh per month will see their electricity bills increase by between NT$147 and NT$253 per month.
The plan also increases a bracket for households that consume more than 1,000kWh a month, which will see their electricity rates rise by between 7 and 10 percent.
For small businesses, only 20 percent, or 180,000 businesses, of the total consuming more than 1,500kWh per month will see their electricity bills rise, by an average of NT$358 a month.
Local industries and large-scale businesses will bear the brunt, with rate hikes ranging from 10.4 to 12.2 percent under the ministry's plan, compared with a range of 11.6 percent to 13.6 percent in the ministry's original proposal.
Overall, the average level of the second phase of power rate hikes was lowered to 8.49 percent, from 9.64 percent in the original plan.
The new plan will lower the annual revenues of state-run Taiwan Power Co (Taipower, 台電) by between NT$6.8 billion and NT$7 billion (US$226.2 million and US$232.9 million) from the previous forecast, Duh said.
However, the second phase of rate hikes could still reduce the company's accumulated losses by the end of this year to NT$237.2 billion, compared with losses of NT$249.1 billion without the rate hike plan, Taipower data showed.
The new plan for electricity rate hikes will also limit the impact on the nation's economy and consumer prices. Taiwan's GDP would have been 0.02 percentage points lower this year and 0.06 percentage points lower next year under the original version, with annual growth in the consumer price index (CPI) rising by 0.06 percentage points and 0.18 percentage points respectively, statistics showed.
Minister of Economic Affairs Chang Chia-juch (張家祝) said the new plan does not completely reflect rising energy costs over the past few years, so Taipower will continue its strategies to improve its performance and curb its losses.
Lawmakers across party lines yesterday spoke out against the ministry's rate-increase schemes.
Earlier yesterday morning, at a meeting with the ministry held at the Chinese Nationalist Party (KMT) headquarters, the KMT caucus urged the Executive Yuan to strengthen its communication with the legislature before finalizing its rate adjustment plan.
"According to the ministry's proposed plan, 85 percent of people will not be affected by the new rate hikes. However, the general public and small business owners are still concerned about the plan," KMT caucus whip Lai Shyh-bao (賴士葆) said after the meeting, which was attended by Chang and Taipower chairman Hwang Jung-chiou (黃重球).
"The Executive Yuan needs to decide how to explain the price hike to legislators and the public," Lai said.
KMT Legislator Lo Shu-lei (羅淑蕾) accused the ministry and the Executive Yuan of breaking a promise to not raise electricity rates again after last year's price adjustment.
"If the new price adjustment plan will not affect 85 percent of people, why bother increasing rates at all? Taipower should reflect upon its operations before putting such a burden on the public," she said.
KMT Legislator Huang Chao-shun (黃昭順) said the legislature will examine Taipower's budget closely to help the public oversee the company's performance.
Democratic Progressive Party (DPP) lawmakers yesterday accused the company of announcing rate rises without consulting the legislature, and without enacting necessary corporate reforms.
The ministry has been playing a "numbers game," wherein all Taipower did was find excuses for its lack of efficiency and losses, DPP Legislator Huang Wei-cher (黃偉哲) said.
DPP headquarters held the same view, with spokesperson Lin Chun-hsien (林俊憲) saying that the administration should not implement the new pricing scheme and harm economic growth when it is clueless about how to lift the sluggish economy.
President Ma Ying-jeou (馬英九), who promised to reform Taipower and CPC Corp, Taiwan (中油) in June last year, and Taipower, which promised that price adjustment proposals would first be sent to the Legislative Yuan, betrayed their pledges, Lin added.
Comments will be moderated. Keep comments relevant to the article. Remarks containing abusive and obscene language, personal attacks of any kind or promotion will be removed and the user banned. Final decision will be at the discretion of the Taipei Times.