Bo admits faults over embezzlement and murder probe
Fallen Chinese politician Bo Xilai (薄熙來) admitted "some responsibility" yesterday for embezzled public funds and making mistakes in connection with his wife's murder of a British businessman, his first confessions in a dramatic trial.
Bo denies embezzling 5 million yuan (US$800,000) intended for a local government construction project, but said he "should take some responsibility" for the money ending up in his wife Gu Kailai's (谷開來) bank account and for failing to investigate.
"I feel ashamed. I was too careless, because these are state funds," he said according to transcripts that the Intermediate People's Court in Jinan, China, is providing on its account on Sina Weibo (新浪微博), a Chinese microblogging service.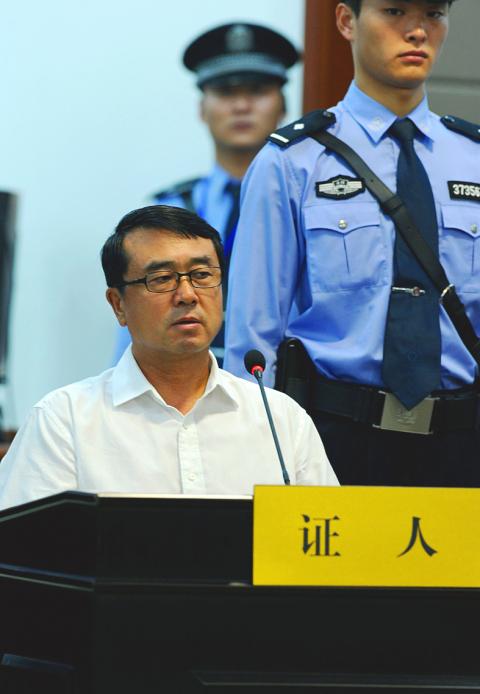 A handout picture made available by the Jinan Intermediate People`s Court shows former police chief of Chongqing municipality Wang Lijun (L) speaking as witness at Jinan Intermediate People`s Court yesterday.
Photo:EPA
The courtroom scenes come after a lurid scandal triggered by the death of British businessman Neil Heywood — for which Bo's wife Gu was convicted of murder — that rocked the Chinese Communist Party (CCP).
He also admitted mistakes relating to the investigation into Heywood's killing, although he denied charges of abuse of power.
A picture showed him staring at Wang Lijun (王立軍), his police chief and right-hand man in Chongqing, the megacity he headed, as Wang testified in court against him.
Bo admitted slapping Wang and sacking him as police chief after he told him Gu was responsible for Heywood's murder.
Days later, Wang fled to a US consulate to seek asylum, blowing the scandal wide open, and Bo said his errors had "tarnished the reputation of the Party and the country."
"I failed to handle this incident at a critical point in a calm way and I made a serious misjudgement," he said.
Until the admissions, Bo's performance had been defiant, denying charges of bribe-taking and embezzlement totaling 26.8 million yuan.
Earlier, Bo launched a scathing attack on a key witness, saying even the most stupid official knew not to discuss bribery where they could be overheard.
Wang Zhenggang (王正剛), a former planning official in Dalian, where Bo was mayor in the 1990s, told the court the politician had telephoned Gu in front of him in connection with the 5 million yuan.
The claim did not make sense, Bo said.
"It is not even what the most stupid corruption offender would do. Corrupt offenders with even the lowest IQ would ask who else in Dalian was aware of the money," he said.
The scandal erupted in advance of a generational shift of power atop the factionalized CCP, and Bo's feisty performance during his trial has astonished a public unfamiliar with the open airing of top-level intrigue.
Revelations of private jet flights, luxury villas and rare animal meats have held Chinese Internet users spellbound, while Bo has showed open disdain for prosecution witnesses, including Gu, whom he derided as "insane."
The trial was widely expected to last only two days, but will move into a fourth day today, although analysts still believe a guilty verdict and long prison sentence for Bo were decided beforehand.
Comments will be moderated. Keep comments relevant to the article. Remarks containing abusive and obscene language, personal attacks of any kind or promotion will be removed and the user banned. Final decision will be at the discretion of the Taipei Times.