Wang urged to join abolitionists
ABOVE BOARD: While the DPP and TSU backed calls for the watchdog to be abolished, Control Yuan members denied having been treated to dinners by Keelung's mayor
Members of the Civil Promotion for Control Yuan Abolition Alliance staged a protest in front of the Control Yuan in Taipei yesterday, calling on Control Yuan President Wang Chien-shien to resign and become the alliance's convener.
Followng the Control Yuan's failure to impeach Keelung Mayor Chang Tong-rong (張通榮), who has been convicted of influence peddling and interfering with police matters when he demanded that a drunk driver be released without charge, Wang on Wednesday said the government watchdog would be better off being abolished if it could not mete out justice, adding that Control Yuan positions were often used as bargaining chips for political favors or rewards.
His remarks sparked a furor both inside and outside the government body.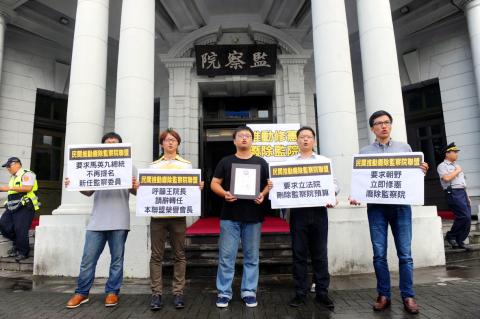 Members of a civic group advocating the abolishment of the Control Yuan stand outside its offices in Taipei yesterday while calling on Control Yuan President Wang Chien-shien to come out and become the head of their group.
Photo: Lo Pei-der, Taipei Times
After their request to meet with Wang was denied, members of the alliance read out four demands on the doorsteps of the Control Yuan.
The association expressed its wish that Wang become its convener, called for the Legislative Yuan to slash the Control Yuan's budget, demanded that President Ma Ying-jeou (馬英九) not nominate the next batch of Control Yuan members and asked for support from lawmakers across party lines to amend the Constitution to abolish the Control Yuan.
Separately yesterday, Democratic Progressive Party (DPP) spokesperson Lin Chun-hsien (林俊憲) said his party supports an amendment to the Constitution to abolish the Control Yuan, adding that before such an amendment is made, the Control Yuan should be suspended and that its budget be frozen.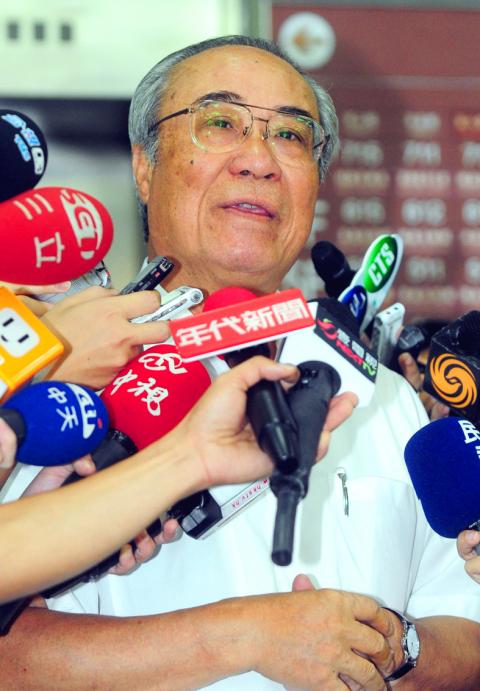 Control Yuan member Frank Wu answers questions from the media yesterday.
Photo: Wang Yi-sung, Taipei Times
Lin said the party hopes Wang would exercise his influence to help abolish the government body.
Saying his party has been pushing for an amendment to the Constitution to allow the powers of the Control Yuan to be transferred to the legislature, Taiwan Solidarity Union (TSU) caucus whip Hsu Chung-hsin (許忠信) said his party also supports the suspension of the Control Yuan and the freezing of its budget.
Amid calls that he should step down, Wang yesterday insisted he has done nothing wrong.
"I have not even entertained the thought of stepping down," he said, adding: "If I was a Control Yuan member who had accepted Chang's offer to pay for dinner three times, then I should step down. We should be reasonable [in our demands]."
He was referring to media reports yesterday that quoted People First Party (PFP) Deputy Secretary-General Liu Wen-hsiung (劉文雄) as saying that Control Yuan members had visited Keelung three times and had been treated to dinners at the Evergreen Laurel Hotel Keelung by Chang.
Control Yuan member Huang Huang-hsiung (黃煌雄), one of the Control Yuan members who had visited Keelung, said yesterday that he had never accepted any of Chang's dinner invitations.
Huang added that if anyone named him specifically, then they could expect to be sued.
Control Yuan member Yu Teng-fang (余騰芳), who had also visited Keelung in the past year, said that of his three visits, aside from the first time where he formally visited Chang and sat in on a city governance briefing, the other times Chang had only dropped by to offer a greeting out of courtesy.
He had not met with Chang at any other time, Yu added.
Yu said that he followed protocol and dined with government officials over lunchboxes, adding that he and the city government shared the bill.
Chang, who is still abroad in China on business, spoke yesterday via Keelung City Government spokesman Lee Liang (李梁), and denied having treated Control Yuan members to dinners.
Liu said yesterday that his sources were Keelung residents, adding that his source was not certain which Control Yuan members were involved and that the agency should make an official statement explaining the actions of its officials.
Additional reporting by Rich Chang, Chen Yen-ting and CNA
Comments will be moderated. Keep comments relevant to the article. Remarks containing abusive and obscene language, personal attacks of any kind or promotion will be removed and the user banned. Final decision will be at the discretion of the Taipei Times.