Thousands evacuated as Indonesian volcano erupts
'DANGEROUS LEVELS': Clouds of ash were being spewed as high 600m into the air as officials rushed to prevent the volcano's death toll from increasing
Indonesian rescuers battled yesterday to evacuate thousands from an island where a volcanic eruption killed six people the previous day, with the volcano still spewing out rocks and ash at "dangerous levels."
Mount Rokatenda, on tiny Palue Island in East Nusa Tenggara Province, was still sending large clouds of red-hot ash up to 600m into the air yesterday after it erupted on Saturday.
"The activity ... remains high and at dangerous levels. There are no signs it will stop erupting any time soon," Surono, an official from the Indonesian Center for Volcanology and Geological Hazard Mitigation, told reporters.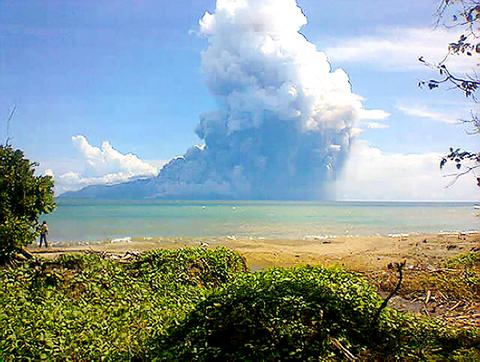 The Mount Rokatenda volcano on Palue Island, in Indonesia's East Nusa Tenggara Province, is seen from the province's Maurole District spewing a huge column of hot ash as it erupts on Saturday.
Photo: AFP
On Saturday the volcano threw rocks and ash 1.9km into the sky and sent torrents of molten lava onto a beach, killing three adults and two children as they slept. The age of the sixth person was unclear.
Tini Thadeus, head of the local disaster agency, said the six victims were among those who had refused to leave last year when evacuations were carried out to establish a safety zone around the volcano.
"On their belief, if all the old villagers abandoned the red [danger] zone, then lava will destroy the residential area,'' Thadeus said from Kupang, the provincial capital.
Among the dead was a 58-year-old woman, the grandmother of the two children who also died.
"But unfortunately, not like in the past, lava from Saturday's eruption flowed northward and hit them,'' Thadeus said, adding that during earlier eruptions since the 1930s, volcanic material had always flowed southward.
On nearby Flores Island, Mutiara Mauboi, an official at the command post helping evacuees, said 138 had arrived yesterday in the town of Maumere.
Eleven people, including two pregnant women and two disabled people, were taken to a hospital due to injuries sustained during the eruption.
Thadeus said he was not optimistic about recovering the children's bodies since they were buried under hot volcanic material.
Activity had been increasing at Rokatenda — one of numerous active volcanoes in the vast Indonesian archipelago — since October last year and there had been a series of small eruptions before Saturday.
A rescue team was seeking to evacuate about 2,000 people inside a 3km exclusion zone and a group of "traumatized" inhabitants had already left the island, Eduardus Desa Pante, a local disaster management agency official told reporters.
"Everything was burned by the lava. People were scared and many were crying. They wanted to get away from the volcano, but at the same time they were reluctant to leave their livestock and homes," Pante added.
Bakri Kari of the disaster management team said rescue efforts were difficult as roads were blocked by ash and people were reluctant to leave their homes.
"It was tough trudging through hot ground covered in ash that was 10 to 20cm thick," he said.
About 2,000 people had already been evacuated to Flores before the eruption, leaving about 8,000 still on the island.
Comments will be moderated. Keep comments relevant to the article. Remarks containing abusive and obscene language, personal attacks of any kind or promotion will be removed and the user banned. Final decision will be at the discretion of the Taipei Times.