General's retirement request rejected
POWER STRUGGLE: Sources allege infighting between an alliance of the air force and the navy against the army is heating up, but the government denies there is any discord
Commanding army General Lee Hsiang-chou (李翔宙) will stay on in the job despite having expressed his desire to retire from military service, the Ministry of National Defense said yesterday.
Ministry spokesman Major General David Lo (羅紹和) confirmed that Minister of National Defense Yen Ming (嚴明) had asked Lee to remain in his post to serve the nation and contribute his expertise to the military's continued efforts to remain combat-ready.
Lo confirmed that Lee has twice sought to leave his post since an army conscript died in military confinement in suspicious circumstances early last month.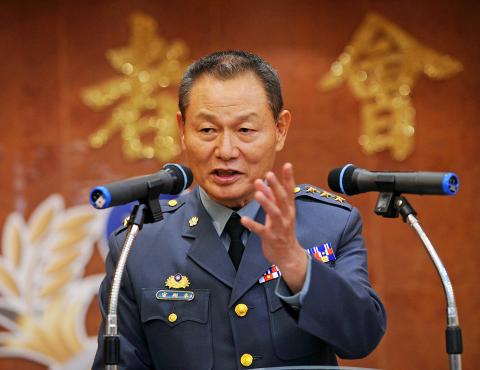 Army commander General Lee Hsiang-chou talks at a press conference in this undated photo. The Minister of National Defense announced at a press conference yesterday afternoon that Lee had applied to retire but was asked to remain in his post.
Photo: CNA
Lee first tendered his resignation to then-minister of national defense Kao Hua-chu (高華柱) on July 16 to take the blame for corporal Hung Chung-chiu's (洪仲丘) death, which Kao rejected, Lo said at a press conference in Taipei.
Yesterday, the general filed an application with the ministry to retire from the military, Lo said.
Lo's remarks came after the Chinese-language United Evening News said in a front-page report yesterday that Lee had informed President Ma Ying-jeou (馬英九) of his intention to resign from his post as the army's commanding general.
Quoting unidentified sources, the paper said Lee wanted to retire from military service altogether.
Lo said that under current regulations, no senior military officer would present their resignation or retirement plans to the president.
"They file retirement applications with the ministry and the ministry presents them to the president for review only after approving them," Lo said.
Lo said Yen, an air force three-star general, had informed Ma of his request to retain Lee in the top position in the army.
Under current regulations, three-star generals such as Lee must retire when they turn 64.
"There is still some time before Lee reaches his mandatory retirement age," Lo said.
Military sources said Lee, 61, told the ministry of his retirement plans on Thursday and submitted a written application yesterday.
Speculation has been rife that Lee is a victim of infighting within the military.
Lee was given an administrative reprimand in the wake of Hung's death.
Sources allege infighting between an alliance of the air force and the navy against the army is heating up.
The ministry firmly denies any infighting within the armed forces.
Sources familiar with the military said Lee will complete two years as army commander next week, adding that it is unusual for commanders to suddenly file for retirement.
Kao twice asked to resign over the Hung incident and his request was approved by Ma on July 29. His successor as minister of national defense, Andrew Yang (楊念祖), resigned six days after succeeding Kao due to allegations of plagiarism.
Comments will be moderated. Keep comments relevant to the article. Remarks containing abusive and obscene language, personal attacks of any kind or promotion will be removed and the user banned. Final decision will be at the discretion of the Taipei Times.