Beijing, Seoul to try to end North's nuclear program
COMMON INTEREST: The leaders of the two countries said in Beijing they agreed to protect peace on the Korean Peninsula, where the situation is becoming more positive
China and South Korea will keep pushing to end North Korea's nuclear program, their leaders said on Thursday at a high-profile summit between Pyongyang's closest ally and its key rival.
"We have agreed that under any circumstances, North Korea's nuclear [weapons] are unacceptable and confirmed that the denuclearization of the Korean Peninsula is of common interest for the two countries," South Korean President Park Geun-hye told reporters as she sat beside Chinese President Xi Jinping (習近平).
Park made the remarks after a summit meeting in Beijing, where Xi greeted her as "an old friend of China" and granted her full military honors, before the pair witnessed the signing of trade and other agreements.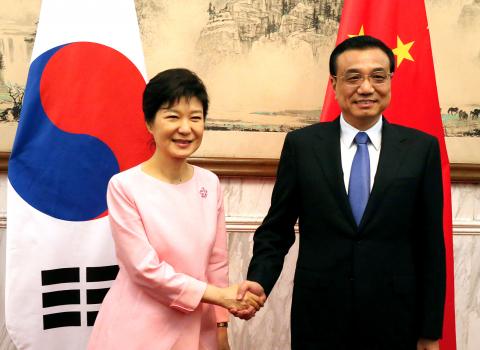 South Korean President Park Geun-hye, left, shakes hands with Chinese Premier Li Keqiang at the Diaoyutai State Guest House in Beijing yesterday.
Photo: EPA
"We on both sides consistently agree to continue to realize the denuclearization of the Korean Peninsula and firmly protect peace and stability on the peninsula," Xi said, though he avoided singling out North Korea by name.
China has previously supported North Korea's denuclearization and is the chair of a multinational forum — the six-party talks which group North Korea, China, South Korea, Japan, Russia and the US — aimed at achieving it, but has also tended to prioritize regional stability, for decades acting as the sole major ally and economic lifeline to the unpredictable North.
South Korea, which does not have nuclear weapons, and its ally the US, have made it clear that they will never accept the idea of North Korea as a nuclear state and insist Pyongyang must show a tangible commitment to abandoning its nuclear weapons if it wants substantive talks.
Both nations have pressured China to use more of its leverage to rein in Pyongyang.
Xi, for his part, described the situation on the divided peninsula as "currently changing in a positive direction," apparently referring to recent offers by Pyongyang to pursue dialogue, including hinting at a return to long-stalled six-nation nuclear talks aimed at shuttering its nuclear program.
"We hope all sides will seize this opportunity to work to return to the six-party talks as soon as possible," he said.
The forum is aimed at achieving Pyongyang's abandonment of its nuclear weapons program in return for aid and security guarantees.
The North appears in recent months to have moderated its stance after a series of bellicose statements and gestures against the South and the US early this year, including threats of nuclear war.
In February, the North carried out its third underground nuclear test in defiance of UN Security Council resolutions, sending tensions soaring and raising fears of possible conflict.
While a planned meeting with South Korea earlier this month fell through, Pyongyang has offered direct talks with Washington and has sent two envoys to Beijing since late last month to convey a willingness for dialogue.
Yang Moo-Jin, a professor at the University of North Korean Studies in Seoul, was cautious about how close the views of Xi and Park on North Korea actually are.
"President Xi reaffirmed China's established stance apparently in consideration of North Korea, while President Park strongly clarified South Korea's position that North Korea's nuclear weapons are unacceptable," Yang said.
"Different wording from the two leaders may spark confusion and doubt, as it is not clear whether President Xi accepted what President Park raised at their talks," he added.
North Korea was not the only topic on Thursday, with the two sides signing eight agreements in various fields including energy, trade, technology and oceanic cooperation.
Comments will be moderated. Keep comments relevant to the article. Remarks containing abusive and obscene language, personal attacks of any kind or promotion will be removed and the user banned. Final decision will be at the discretion of the Taipei Times.