Debris from China Airlines flight hits Atlanta house
A 6m long piece of material fell from the right wing of a China Airlines (CAL, 中華航空) Boeing 747-400 freighter as it prepared to land in Atlanta, Georgia, at about 2pm on Sunday.
The US Federal Aviation Administration has opened an investigation into the incident and the aircraft remains grounded at Atlanta's Hartsfield-Jackson International Airport.
No one was injured and the aircraft — flight CI-5254 from Anchorage, Alaska — landed safely.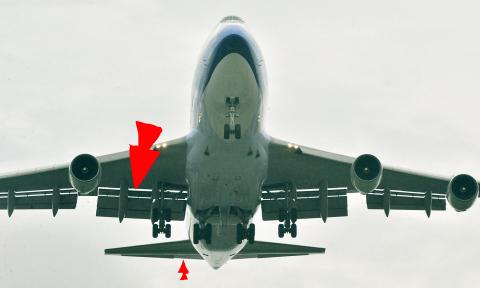 A Boeing 747-400 is seen in this picture taken yesterday. A China Airlines Boeing 747-400 freighter lost a 6m-long piece from its right wing as it prepared to land in Atlanta, Georgia on Sunday. No one was injured and the aircraft landed safely.
Photo: Yao Kai-Shiou, Taipei Times
Reports indicate that the piece broke away from the wing and snapped in two, damaging the fuselage of the aircraft before falling to the ground.
One piece of the debris hit the roof of a suburban house while the other landed in the parking lot of a shopping mall.
It is unclear why the incident was not reported to the press earlier.
According to aviation sources, one of the trailing edge flaps separated from the wing.
The plane had been scheduled to continue to Dallas-Fort Worth, Texas, but that leg of the journey was canceled.
Atlanta homeowner Pamela Ware, who lives about 8km from the airport in the suburb of Ellenwood, told the local TV station that she heard a huge bang when something landed on her roof.
The wing fragment made two holes in her roof before rolling off into the garden.
Nearby, the main part of the wing to break away fell into the parking lot outside a Walmart store.
According to Taiwan's Civil Aeronautics Administration (CAA), the pilots in the aircraft heard a loud bang when they were descending in Atlanta, which caused the steering wheel to tilt to the left by about 15°.
As the dashboard showed that the aircraft was in a normal condition, the pilots decided to turn the aircraft and tried to land again by setting the plane in auto-pilot mode, CAA said.
The airline followed government regulations by reporting the incident to the CAA, which then asked the airline to inspect all its aircraft of the same model. No abnormalities were found so far, the CAA said.
Additional reporting by Shelley Shan
Comments will be moderated. Keep comments relevant to the article. Remarks containing abusive and obscene language, personal attacks of any kind or promotion will be removed and the user banned. Final decision will be at the discretion of the Taipei Times.