Boston bombing suspect dead, FBI hunts his brother
ENDGAME: When the FBI released photos and video of two suspects on Thursday, the tipoffs came pouring in immediately, and within hours they had been tracked
The two suspects in the Boston Marathon bombing killed a university police officer, then hurled explosives at police in a car chase and gun battle overnight that left one of them dead and his brother on the loose, authorities said yesterday as thousands of officers swarmed the streets in a manhunt that all but paralyzed the Boston area.
The suspects were identified by law enforcement officials and a family member as Dzhokhar and Tamerlan Tsarnaev, brothers from a Russian region near Chechnya, which has been plagued by an Islamic insurgency that has carried out deadly bombings. They lived near Boston and had been in the US for about a decade, an uncle said.
Tamerlan Tsarnaev, a 26-year-old who had been known to the FBI as "Suspect No. 1" and was seen in surveillance footage in a black baseball cap, was killed overnight, officials said.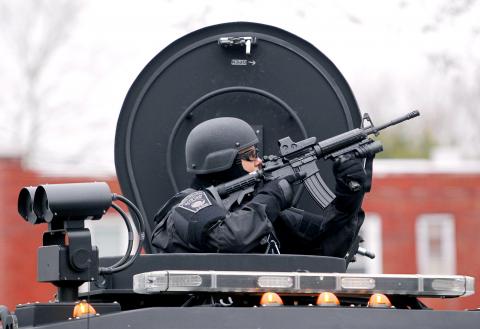 A member of a SWAT team trains his gun on an apartment building during a search for a suspect in the Boston Marathon bombings in Watertown, Massachusetts, yesterday.
Photo: Reuters
His 19-year-old brother — dubbed "Suspect No. 2" and seen wearing a white, backward baseball cap in the images from Monday's deadly bombing at the marathon finish line — escaped.
The law enforcement officials spoke on condition of anonymity because of the sensitivity of the unfolding case.
Authorities in Boston suspended all mass transit systems and warned close to 1 million people in the city and some of its suburbs to stay indoors as the hunt went on. Businesses were asked not to open. People waiting at bus and subway stops were told to go home.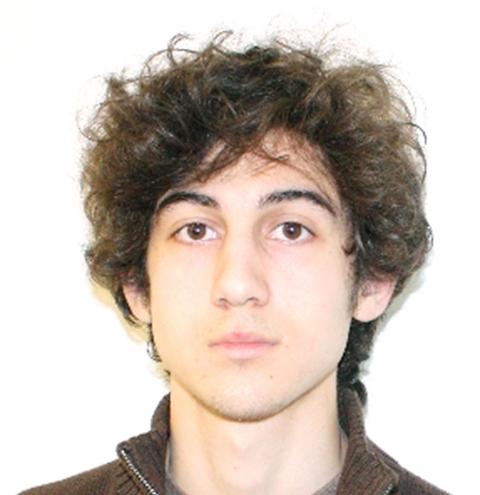 An undated image released by the FBI shows bombing suspect Dzhokhar Tsarnaev, who was the subject of a manhunt in the Boston area yesterday.
Photo: AFP / FBI
"We believe this man to be a terrorist," Boston Police Commissioner Ed Davis said. "We believe this to be a man who's come here to kill people."
The bombings on Monday killed three people and wounded more than 180, tearing off limbs in a spray of shrapnel and instantly raising the specter of another terrorist attack on US soil.
The endgame — at least for one of the brothers — came just hours after the FBI released photos and video of the two young men at the finish line, and appealed to the public for help in identifying and capturing them. Tips came pouring in to the FBI immediately, but exactly how authorities managed to close in on the two was not immediately disclosed.
The men's uncle, Ruslan Tsarni of Montgomery Village, Maryland, said that the men traveled here together from the Russian region near Chechnya.
Their father, Anzor Tsarnaev, said in a telephone interview from the Russian city of Makhachkala that his younger son, Dzhokhar, is "a true angel."
"Dzhokhar is a second-year medical student in the US. He is such an intelligent boy. We expected him to come on holidays here," the father said.
The White House said US President Barack Obama was being briefed on developments overnight by Lisa Monaco, his assistant for homeland security and counterterrorism.
The images released by the FBI depict the two young men walking one behind the other near the finish line. Richard DesLauriers, the FBI agent in charge in Boston, said Dzhokhar Tsarnaev was seen setting down a bag at the site of the second of two deadly explosions.
Authorities said surveillance tape recorded late on Thursday showed Dzhokhar Tsarnaev during a robbery of a convenience store in Cambridge, near the campus of the Massachusetts Institute of Technology, where university police officer Sean Collier, 26, was shot to death while responding to a report of a disturbance, State Police Colonel Timothy Alben said.
From there, the two men carjacked a man in a Mercedes-Benz, keeping him with them in the car for half an hour, before releasing him at a gas station in Cambridge. The man was not injured.
The search for the vehicle led to a chase that ended in Watertown, where authorities said the suspects threw explosive devices from the car and exchanged gunfire with police. A transit police officer was seriously injured during the chase, authorities said.
In Watertown, witnesses reported hearing multiple gunshots and explosions at about 1am yesterday morning. Dozens of police officers and FBI agents were in the neighborhood, and a helicopter circled overhead.
Watertown resident Christine Yajko said she was awakened at about 1:30am by a loud noise, began to walk to her kitchen and heard gunfire.
"I heard the explosion, so I stepped back from that area, then I went back out and heard a second one," she said. "It was very loud. It shook the house a little."
She said a police officer later knocked on her door and told her there was an undetonated improvised explosive device in the street and warned her to stay away from the windows.
"It was on the street, right near our kitchen window," she said.
Police spokesman David Procopio said: "The incident in Watertown did involve what we believe to be explosive devices, possibly, potentially, being used against the police officers."
Boston taxi driver Imran Saif said he was standing on a street corner at a police barricade across from a diner when he heard an explosion.
"I heard a loud boom and then a rapid succession of pop, pop, pop," he said. "It sounded like automatic weapons and then I heard the second explosion."
He said he could smell something burning and advanced to check it out, but area residents at their windows yelled at him: "Hey, it's gunfire. Don't go that way."
Doctors at the hospital where Tamerlan Tsarnaev died said they treated a man with a blast injury and multiple gunshot wounds.
In the past, insurgents from Chechnya and neighboring restive provinces in the Caucasus have been involved in terror attacks in Moscow and other places in Russia.
Those raids included a raid in Moscow in October 2002 in which a group of Chechen militants took 800 people hostage and held them for two days, before special forces stormed the building, killing all 41 Chechen hostage-takers. Also killed were 129 hostages, mostly from effects of narcotic gas Russian forces used to subdue the attackers.
Comments will be moderated. Keep comments relevant to the article. Remarks containing abusive and obscene language, personal attacks of any kind or promotion will be removed and the user banned. Final decision will be at the discretion of the Taipei Times.