Six death-row inmates executed
COVENANTS BROKEN: Human rights activists vowed to file lawsuits against ministry officials over the decision to execute the convicts before their appeals had been heard
Six convicts on death row were executed yesterday, the Ministry of Justice announced last night.
The executions were carried out after Minister of Justice Tseng Yung-fu (曾勇夫) signed orders on Wednesday giving the go-ahead for the death sentences to be carried out.
Lin Chin-te (林金德) was executed at Taipei Prison; Chen Jui-chin (陳瑞欽) at Greater Taichung Prison; Chen Tung-jung (陳東榮) at Greater Tainan Prison; and Chang Pao-hui (張胞輝), Chi Chun-i (紀俊毅) and Lee Chia-hsuan (李嘉軒) at Hualien Prison, Deputy Minister of Justice Chen Ming-tang (陳明堂) told a press conference.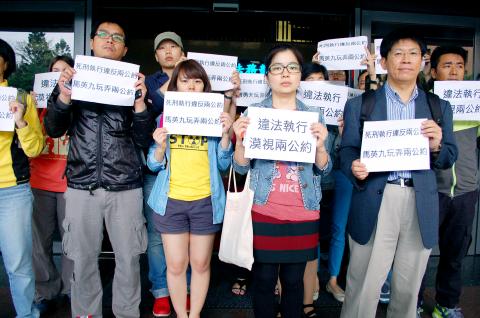 Members of the Taiwan Alliance to End the Death Penalty protest outside the Ministry of Justice in Taipei yesterday after Minister of Justice Tseng Yung-fu's decision to sign the execution orders of six death-row inmates.
Photo: Lin Chun-hung, Taipei Times
Chen Jui-chin was sentenced to death for killing six people for the insurance payments — his three sons, two wives and a third woman.
Chen Tung-jung was convicted of setting fire to a hotel and killing 26 people in then-Tainan City in 1985.
He had been on the run for 25 years before he was captured. A court ruling said he set fire to the hotel because his friend had had a small dispute with a member of staff, and that he did not offer to compensate the victims' families or show any remorse during the hearings.
Chang had been convicted of breaking into a residence in February 2003, and robbing and murdering an elderly man and his girlfriend. After he was caught, investigators discovered that Chang had also killed his own girlfriend, surnamed Chen, in 2002.
Chi and Lee were convicted for a brutal shootout at a Taichung tea house in 2004. Three people died and two were seriously injured in the incident. The pair also committed two kidnappings before they were caught.
Lin set fire to his girlfriend's house in Keelung in July 2002, killing three young girls.
Chen Ming-tang said the six who were executed had murdered innocent men, women and children using very cruel methods, including arson.
He said that various surveys have shown public support for the death penalty and he added that a survey released by the ministry in July last year showed that 76.7 percent of respondents supported the death penalty, while a poll released by National Cheng Chung University in January showed that 90 percent of respondents opposed abolishing capital punishment.
No organ donations were made by the six, he added.
Tseng, who took office in 2010, resumed the use of capital punishment after a moratorium of more than four years. Since that time, the minister has signed 21 execution orders.
Following yesterday's executions, the number of inmates on death row now stands at 56, the ministry said.
Human rights activists criticized the government and vowed to file lawsuits against officials over the ministry's decision to executive the six inmates.
"The International Covenant on Civil and Political Rights and the International Covenant on Economic, Social and Cultural Rights have been ratified by the legislature and given status as domestic laws, and the government is supposed to act accordingly," Covenants Watch covener Kao Yung-cheng (高涌誠) told a press conference at the legislature. "The covenants stipulate that all death-row prisoners have the right to appeal their cases and all the prisoners currently on death row have done so."
"The ministry has violated the laws by approving the executions before their appeals have been heard," Kao said.
Judicial Reform Foundation director Kao Chih-jung (高志榮) urged President Ma Ying-jeou (馬英九) to not forget his promise that the two international human rights covenants would enjoy a higher status than domestic laws, and that domestic laws would be invalidated if they contradicted the covenants.
Several human rights groups, including Covenants Watch, Taiwan Alliance to End the Death Penalty and the Taiwan Association for Human Rights, jointly issued a statement condemning the executions, while saying that they would pursue legal action against the ministry officials and civil servants involved in the decisionmaking process.
Comments will be moderated. Keep comments relevant to the article. Remarks containing abusive and obscene language, personal attacks of any kind or promotion will be removed and the user banned. Final decision will be at the discretion of the Taipei Times.