US reinforces defenses on N Korean threat
PUSHING BUTTONS: A report said it looked as if North Korea has moved a medium-range missile to its east coast capable of hitting Japan or the South
The US has scrambled to reinforce its Pacific missile defenses as North Korea pushed more global alarm buttons yesterday by announcing it had authorized plans for possible nuclear strikes on US targets.
US Secretary of Defense Chuck Hagel said Pyongyang's increasingly bellicose threats combined with its military capabilities represented a "real and clear danger" to the US and its allies South Korea and Japan.
The Pentagon said it would send ground-based THAAD missile-interceptor batteries to protect bases on Guam, a US territory about 3,380km southeast of North Korea and home to 6,000 US military personnel.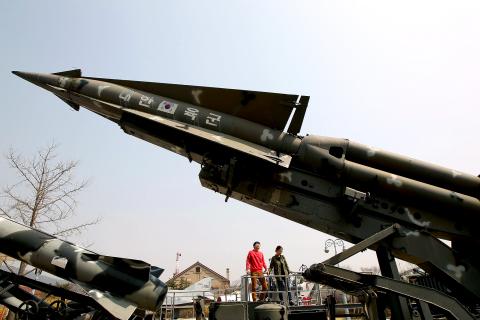 South Korean visitors look at a South Korean MIM-23 Hawk Missile at the Korean War Memorial Museum in Seoul, South Korea yesterday. South Korean Defense Minister Kim Kwan-jin said that North Korea has moved an intermediate-range missile to its east coast for an imminent test firing or military drill, but it does not seem to be aimed at striking the US mainland.
Photo: EPA
"They have nuclear capacity now, they have missile delivery capacity now," Hagel said on Wednesday. "We take those threats seriously."
Shortly afterwards, the North Korean military said it had received final approval for military action against the US, possibly involving nuclear weapons.
"The moment of explosion is approaching fast," the Korean People's Army general staff said, responding to what it called the provocative US use of nuclear-capable B-52 and B-2 stealth bombers in South Korea.
While few of the North's threats have been matched with action, South Korea said it appeared to have moved a medium-range missile to its east coast.
"It could be aimed at test-firing or military drills," South Korean Minister of Defense Kim Kwan-jin told lawmakers.
The new nuclear threats drew fresh concern, led by UN Secretary-General Ban Ki-moon, who said on a visit to Monaco that he was "deeply concerned and troubled" over the escalating rhetoric.
"At this time, I think all the parties concerned in the Korean Peninsula, in particular the Chinese government, can play a very important role to calm down the situation," Ban said.
Russia's foreign ministry termed the North's neglect of UN resolutions as "categorically unacceptable."
Yun Duk-min, a professor at the Korea National Diplomatic Academy in Seoul, said the latest nuclear threat had the added weight of "approval" — presumably by North Korean leader Kim Jong-un.
"The problem is whether Kim, who is still young and inexperienced, knows how to handle this escalation," Yun said. "Where does it end? That's the worrying question."
The North also said this week it would reopen its Yongbyon reactor — its source of weapons-grade plutonium that was closed in 2007 under an aid-for-disarmament accord.
Comments will be moderated. Keep comments relevant to the article. Remarks containing abusive and obscene language, personal attacks of any kind or promotion will be removed and the user banned. Final decision will be at the discretion of the Taipei Times.