Master baker says he does not want special treatment
Baker Wu Pao-chun (吳寶春) yesterday dismissed President Ma Ying-jeou's (馬英九) instruction that the Ministry of Education relax regulations and make it possible for him to apply for executive master of business administration (EMBA) programs, urging the government not to make an exception just for him.
Wu, 42, won the title of Bakery Master in the bread category at the Bakery World Cup in Paris in 2010. Even though he is a successful bakery owner, he has been unable to enroll in EMBA programs at a university in Taiwan because he did not have a college degree or obtained a "class A technician" certificate, as required by regulations.
Regulations stipulate that applicants for masters programs have to hold a diploma from a college or vocational school, or should have "class A technician" certificates. Wu only has a junior-high school diploma and a "class B technician" certificate, because there is no "class A technician" certificate for bakers or pastry chefs.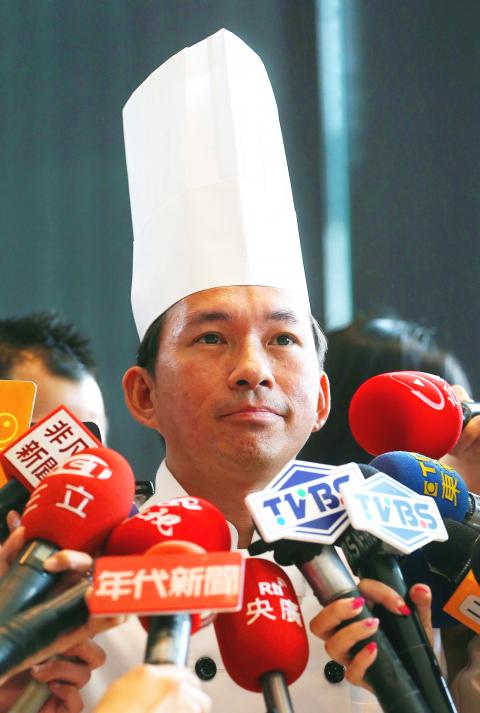 Baker Wu Pao-chun, who won the title of Bakery Master in the bread category at the Bakery World Cup in Paris in 2010, talks to the press yesterday.
Photo: CNA
Wu has therefore been preparing to apply for an EMBA program at the National University of Singapore, which recently held an interview with him in Taiwan.
National Chengchi University's EMBA executive head Chi Yen-ping (季延平) has said that were it not for the regulations, the university would be glad to welcome Wu to its EMBA course, adding that Wu was definitely qualified to enroll.
Ma on Thursday said the nation should not allow the outflow of local talent, like Wu, and instructed the ministry to relax the regulations to allow Wu to be enrolled in a masters degree program at a local university.
After a meeting on Thursday evening, the ministry announced it would amend the Standards for Recognition of Equivalent Educational Level As Qualified for Entering University as soon as possible, adding that there were two particular areas the amendment would address.
The amendment will seek to relax restrictions for subjects that do not offer "class A technician" certificates, to allow applications from applicants who possess "class B technician" certificates and have five years working experience, and to regard individuals with outstanding performances in international competitions, or who had been contracted by universities as professional skills instructors, as having a suitable educational background to apply for masters studies.
Wu yesterday expressed his appreciation of Ma and the public's concern about his situation.
"I hope the ministry is not making an exception to the rules just for me. If the new regulations apply to the general public and more people can have the opportunity to study, then I'd love to see such developments," he said.
Minister of Education Chiang Wei-ling (蔣偉寧) said the problem Wu faces highlighted some issues in the nation's higher education system, adding that the ministry would be looking into them and resolving them as soon as possible.
Premier Jiang Yi-huah (江宜樺) yesterday said the revisions were not tailor-made for any specific individual, but were aiming at making the education system more flexible to keep local talents in the country.
Additional reporting by Shi Hsiu-chuan and Chiu Shao-wen
Comments will be moderated. Keep comments relevant to the article. Remarks containing abusive and obscene language, personal attacks of any kind or promotion will be removed and the user banned. Final decision will be at the discretion of the Taipei Times.