Cyprus scrambles to get bailout deal, or collapse
Russia rebuffed Cypriot entreaties for aid yesterday, leaving the country's increasingly isolated leaders scrambling to strike a bailout deal with the EU by next week or face the collapse of its financial system.
In Nicosia, the country's biggest bank urged politicians to make haste and cut a deal with their EU partners, while parliament considered proposals to nationalize pension funds, pool state assets and split the country's second-largest bank in a desperate effort to satisfy exasperated European allies.
The governor of the Cypriot Central Bank, Panicos Demetriades, warned political leaders the country would face a disorderly bankruptcy on Tuesday unless they approved the bills, an official present at the talks said.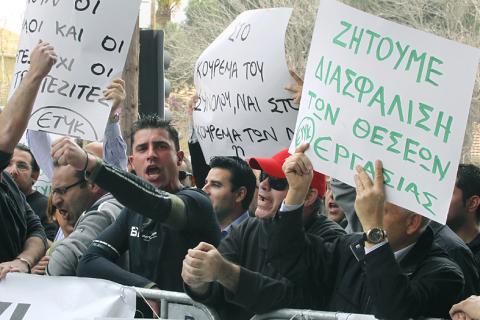 Protesters shout slogans during an anti-bailout rally by employees of Cyprus Popular Bank outside the parliament in Nicosia yesterday.
Photo: Reuters
"The next few hours will determine the future of the country," government spokesman Christos Stylianides said before the parliamentary debate. "We must all assume our share of the responsibility."
Even if the measures are approved, there was no confirmation they would raise the 5.8 billion euros (US$7.5 billion) demanded by the EU in return for a 10 billion euro bailout to avoid a default.
The biggest local bank, the Bank of Cyprus, urged the government to go back and make a deal with the EU, under which larger deposits of more than 100,000 euros would be taxed. It was preferable, it said, to a collapse of the system and a return to the Cypriot pound, which would wipe out assets.
"There must be no further delay," the bank said.
Cypriot insistence on taxing even small savers — in hopes of limiting damage to an offshore banking sector heavily dependent on larger Russian depositors — saw a bailout deal that had been agreed with the EU a week ago rejected by parliament on Tuesday.
Several hundred people rallied peacefully outside parliament yesterday, holding banners saying: "No to the victimization of banks."
Elsewhere, depositors, who have been besieging bank cash machines all week, queued again to withdraw what they could.
The clock was running down to a Monday deadline set by the European Central Bank for a deal to be struck before it cuts funds to Cyprus' stricken banks, potentially pushing it out of Europe's single currency.
Comments will be moderated. Keep comments relevant to the article. Remarks containing abusive and obscene language, personal attacks of any kind or promotion will be removed and the user banned. Final decision will be at the discretion of the Taipei Times.