Cyprus looks to Russia as EU threatens to pull plug
Cyprus pleaded for a new loan from Russia yesterday to avert a financial meltdown, after the island's parliament rejected the terms of a bailout from the EU, raising the risk of default and a bank crash.
Cypriot Minister of Finance Michael Sarris said he had not reached a deal at a first meeting with his Russian counterpart Anton Siluanov in Moscow, but talks there would continue.
The Russian Ministry of Finance said Nicosia had sought a further 5 billion euros (US$6.46 billion) on top of a five-year extension and lower interest on an existing 2.5 billion euro loan.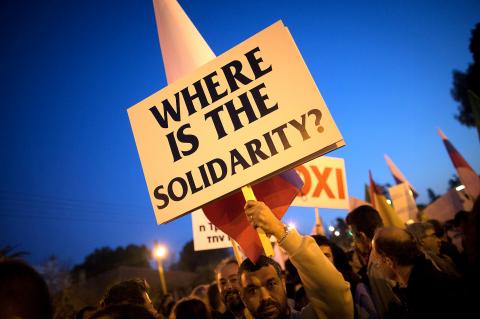 Demonstrators protest against bank deposit tax plans outside the parliament in Nicosia, Cyprus, on Tuesday.
Photo: Bloomberg
Cyprus is seeking Moscow's help after its parliament voted down the eurozone's plan for a 10 billion euro bailout on Tuesday.
Cypriots balked at EU demands for a levy on bank deposits to raise 5.8 billion euros, an unprecedented measure that opponents said would have violated the principle behind an EU-wide guarantee on deposits of up to 100,000 euros.
Moscow has its own interests in ensuring the survival of banks in Cyprus, a haven for billions of euros squirreled abroad by Russian businesses and individuals.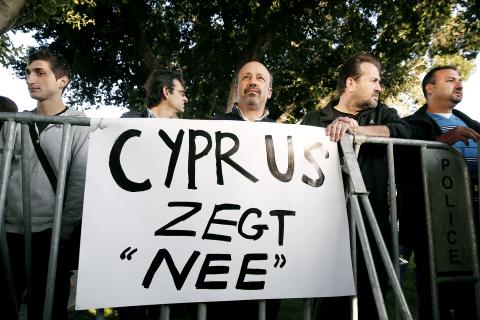 Protesters take part in an anti-bailout rally on Tuesday outside the parliament building in Nicosia, Cyprus.
Photo: Reuters
Jorg Asmussen, the European Central Bank's (ECB) chief Cyprus negotiator, said the ECB would pull the plug on Cypriot banks unless the country took a bailout quickly.
Austrian Chancellor Werner Faymann said he could not rule out Cyprus leaving the eurozone, although he hoped its leaders would find a solution for it to stay.
Cypriot Minister of Energy George Lakkotrypis was also in Moscow, officially for a tourism exhibition, but fueling talk that access to untapped offshore gas reserves could be on the table as part of a deal for Russian aid. Cyprus has found big gas fields in its waters adjoining Israel.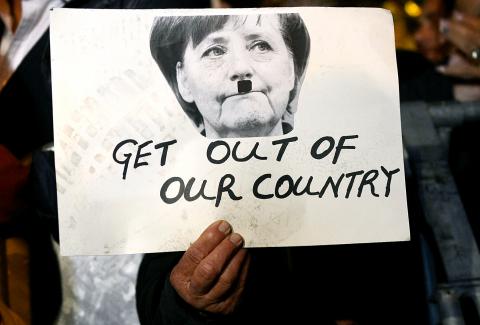 A protester holds a caricature of German Chancellor Angela Merkel outside the parliament in Nicosia on Tuesday.
Photo: EPA
Speculation was rife over the shape that Russian help might take. Cypriot government spokesman Christos Stylianides denied a Greek media report that Cyprus had reached a deal for Russian investors to buy Cyprus's second-largest bank, Cyprus Popular, which was taken over by the state last year.
Not a single Cypriot lawmaker voted for the EU bailout, which included a proposed levy that would have taken nearly 10 percent from accounts above 100,000 euros.
It was the first time a national legislature had rejected the conditions for EU assistance, after three years in which lawmakers in Greece, Ireland, Portugal, Spain and Italy all accepted biting austerity measures to secure aid.
Cypriot President Nicos Anastasiades met party leaders and the governor of the central bank at his office yesterday. Stylianides said a "Plan B" was in the works.
Comments will be moderated. Keep comments relevant to the article. Remarks containing abusive and obscene language, personal attacks of any kind or promotion will be removed and the user banned. Final decision will be at the discretion of the Taipei Times.