Syrian opposition demands probe of 'chemical attack'
'ESCALATION': Syrian media blamed the attack on 'terrorists,' while rebels said regime forces were responsible and NATO said it was mulling action
Syria's main opposition group yesterday demanded a full international investigation into an alleged chemical weapons attack in the country's north, calling for a team to be sent to the village where it reportedly occurred.
The US and UN are attempting to verify the claims and counterclaims by Syrian troops and insurgents that chemical weapons were used for the first time in the two-year conflict.
Meanwhile, NATO Supreme Commander Admiral James Stavridis on Tuesday said that NATO members are mulling possible military action in Syria.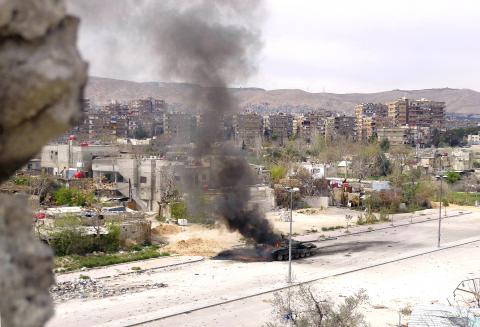 A tank belonging to Syrian troops burns during what activists said were clashes between government forces and the Free Syrian Army near Damascus, Syria, on Tuesday.
Photo: Reuters
However, he stressed that any intervention would only occur with a UN Security Council resolution and agreement from the alliance's 28 members.
His comments came after Syrian state media reported that "terrorists fired rockets containing chemical materials on Khan al-Assal in Aleppo Province," with Syrian Minister of Information Omran al-Zohbi calling the attack a "dangerous escalation."
Syrian Deputy Minister of Foreign Affairs Faisal Muqdad said 31 people had been killed and state media added that about 100 more were injured.
The Syrian National Coalition blamed Syrian President Bashar al-Assad's forces for the attack, which it said caused "breathing problems."
The Russian Ministry of Foreign Affairs said it had "information" from Damascus that insurgents used chemical weapons, expressing concern about such weapons falling into rebel hands.
In Washington, White House spokesman Jay Carney said the US has "no evidence to substantiate the charge that the opposition has used chemical weapons."
Israeli Minister of Intelligence and Strategic Affairs Yuval Steinitz yesterday said it is "apparently clear" that chemical weapons were recently used in Syria, either by the rebels or by the government.
In Iran, al-Assad's strongest ally in the region, Iranian Ministry of Foreign Affairs spokesman Ramin Mehmanparast condemned the alleged use of chemical weapons by "armed opposition groups," calling it "an inhuman act."
Syria's state-run al-Baath newspaper blamed Jabhat al-Nusra, an Islamist group, adding that the attack was done with "the funds of Gulf countries, the facilitations of the new Ottomans [Turkey] and under the sponsorship of America, France and Britain."
Comments will be moderated. Keep comments relevant to the article. Remarks containing abusive and obscene language, personal attacks of any kind or promotion will be removed and the user banned. Final decision will be at the discretion of the Taipei Times.