N Korea stages third nuclear test
WORLD CONDEMNATION: US President Barack Obama denounced what he called 'a highly provocative act.' Japanese Prime Minister Shinzo Abe called it a 'grave threat'
North Korea yesterday conducted its third nuclear test in defiance of existing UN resolutions, angering the US and Japan and prompting its only major ally, China, to call for calm.
The North said the test had "greater explosive force" than the 2006 and 2009 tests that were widely seen as small-scale. Its Korean Central News Agency (KCNA) said it had used a "miniaturized" and lighter nuclear device, indicating that it had again used plutonium, which is more suitable for use as a missile warhead.
North Korean leader Kim Jong-un has presided over two long-range rocket launches and a nuclear test during his first a year in power, pursuing policies that have propelled his impoverished and malnourished country closer to becoming a nuclear weapons power.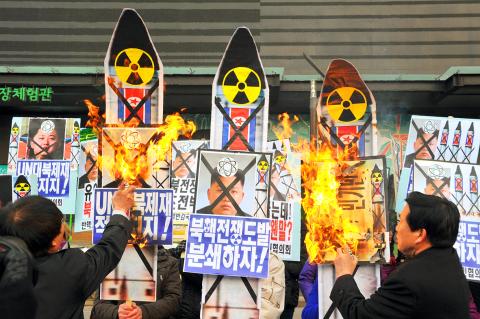 Activists from an anti-North Korea civic group burn placards featuring North Korean leader Kim Jong-un during a protest in Seoul, South Korea, yesterday against Pyongyang's latest nuclear test.
Photo: AFP
US President Barack Obama labeled the test a "highly provocative act" that hurt regional stability, and he and other states that are members of UN Security Council pressed for new sanctions on the country.
"The danger posed by North Korea's threatening activities warrants further swift and credible action by the international community. The United States will also continue to take steps necessary to defend ourselves and our allies," Obama said in a statement.
The Security Council was scheduled to meet yesterday to discuss its reaction to the test, although North Korea is already one of the most heavily sanctioned states in the world and has few external economic links that can be targeted.
Japanese Prime Minister Shinzo Abe said the test was a "grave threat" that could not be tolerated. UN Secretary-General Ban Ki-moon said the test was a "clear and grave violation" of Security Council resolutions.
China, which has shown signs of increasing exasperation with its neighbor, repeated calls for the "denuclearization" of the Korean Peninsula and urged its client state and others to react calmly, while pressing Pyongyang not to ramp up tension further, something the North had threatened in the run-up to the test.
South Korea said the size of the seismic activity indicated a nuclear explosion slightly larger than the North's two previous tests at 6 to 7 kilotons, although that is still relatively small. The Hiroshima bomb was around 20 kilotons.
The US Geological Survey said that a seismic event of magnitude 5.1 had occurred yesterday, with North Korea later confirming the nuclear test.
"It was confirmed that the nuclear test that was carried out at a high level in a safe and perfect manner using a miniaturized and lighter nuclear device with greater explosive force than previously did not pose any negative impact on the surrounding ecological environment," KCNA said.
EU member Denmark called on China to step up to the plate and use its influence at the Security Council to rein in its ally, using unusually blunt language.
"This deserves only one thing and that is a one-sided condemnation," Danish Foreign Minister Villy Sovndal said.
"North Korea is likely the most horrible country on this planet," he said.
The North trumpeted the announcement on its state television channel to patriotic music against the backdrop of an image of its national flag.
It linked the test to its technical prowess in launching a long-range rocket in December last year, a move that triggered the UN sanctions that Pyongyang said prompted it to take yesterday's action.
North Korea also told the UN disarmament forum yesterday that it would never bow to resolutions on its nuclear program and that prospects for the denuclearization of the Korean Peninsula were "gloomy" because of a hostile US policy.
"The US and their followers are sadly mistaken if they miscalculate the DPRK [Democratic People's Republic of Korea] would respect the entirely unreasonable resolutions against it. The DPRK will never bow to any resolutions," Jon Yong-ryong, first secretary of North Korea's mission in Geneva, told the Conference on Disarmament.
"If Seoul truly wants peace and security on the Korean Peninsula, it should urge the US first to terminate its hostile policy towards DPRK on an impartial basis," he said.
Yesterday's action appeared to have been timed for the run-up to Saturday's anniversary celebrations of Kim Jong-il's birthday.
South Korea's spy agency warned that the North might conduct another nuclear test. The warning came during a briefing to lawmakers by the head of the National Intelligence Service, Won Hei-soon, Yonhap news agency reported. The briefing raised "the possibility for another nuclear test" or a ballistic missile test once the Security Council begins discussions new sanctions on Pyongyang, Yonhap said.
Additional reporting by AFP
Comments will be moderated. Keep comments relevant to the article. Remarks containing abusive and obscene language, personal attacks of any kind or promotion will be removed and the user banned. Final decision will be at the discretion of the Taipei Times.