Helicopter hits crane in central London, kills two
AIR ACCIDENT: Police said there was no suggestion of a terrorist link, though the cause of the helicopter's collision with a crane on top of a tower is unknown
A helicopter crashed into a crane on top of one of Europe's tallest residential blocks in central London yesterday, killing two people as it burst into flames and threw plumes of smoke into the air.
Police said there was nothing to indicate that the crash on the south bank of the River Thames was linked to an attack on London, where 52 commuters were killed in rush hour suicide bombings in 2005.
"There was a really loud bang," said Julie Marsden, who works in an office building near the crash site which is close to landmarks such as the headquarters of Britain's MI6 international intelligence agency and the Houses of Parliament.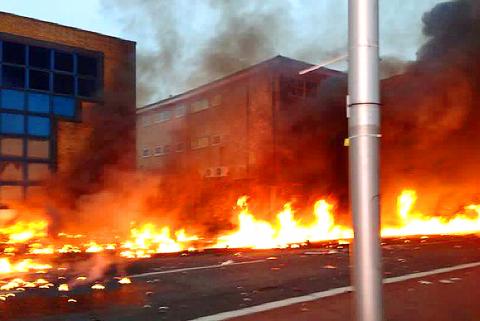 Flames burn on a road after a helicopter crash in central London yesterday.
PHOTO: AFP
"We saw the crane fall to the ground and this massive plume of black smoke," Marsden told reporters.
London police Commissioner Bernard Hogan-Howe said there were 11 casualties, including two dead and one critically injured. The fire service said it had rescued a man from a burning car near Vauxhall Train Station, a major commuter station on the south side of London, shortly after 8am.
Hogan-Howe said the helicopter had been diverted to a helipad in Battersea, near the crash site. He declined to give further information until relatives had been informed.
Rezart Islami, 27, a construction worker from Kosovo who had been on a nearby site, said he saw the helicopter flying fast up the river before it smashed into the crane, span out of control and hit the ground bursting into flames some seconds later.
The crane fell and hit two cars.
"I was shocked, it was spinning around and lost control," he told reporters.
Another witness, Edmir Pishtar, who was in a van outside the building site, said he saw half the crane crash down and cut into two cars on the road. He later spoke to the crane operator who was about to get inside the crane cab.
"He was literally shaking because he was getting ready to climb into the crane and he was late," Pishtar said.
The circular block — The Tower, One St George Wharf — is described on its Web site as the epitome of luxury London living.
Builder Brookfield Multiplex said the tower, which is not occupied, is 185m high and has 212 luxury apartments. Media reports in recent years have suggested that the penthouse apartments could go for as much as £50 million (US$80 million).
A media correspondent at the scene said tangled bits of crane could be seen hanging off the side of the tower, the top of which was still shrouded by low cloud. Television footage showed flaming wreckage strewn across a road.
"Fortunately for us, we have done a full headcount and there are no injuries or fatalities among anyone on the site," said Tony Pidgley, chairman of the tower's developer, Berkeley Group . "The crane driver normally starts at eight o'clock, but unusually — today of all days — [he] was late."
He said it was too early to speculate on the cause of the crash, but helicopters should normally fly 150m above tall structures.
Police were questioning witnesses in the area and dozens of emergency vehicles were in attendance, reporters said. London train and underground services were working as usual.
"There's nothing to suggest any terrorism link," a spokesman for London's Counter Terrorism Command said.
Helicopters in London are generally supposed to fly along the River Thames, but London City Airport said its flights had been disrupted due to low visibility.
The British Department of Transport said it was preparing to launch an inquiry into the incident.
Comments will be moderated. Keep comments relevant to the article. Remarks containing abusive and obscene language, personal attacks of any kind or promotion will be removed and the user banned. Final decision will be at the discretion of the Taipei Times.