New bus rape reported in India
LAX: A politician said police laxity in enforcing bus checks was to blame for the crime, in which a woman was abducted and raped in a way resembling a recent case in Delhi
Six men have been arrested over the rape of a passenger on a bus in India, police said yesterday, weeks after the gang-rape and murder of a student on a bus in New Delhi sparked nationwide protests.
The victim had boarded the bus to her in-laws' home in northern Punjab State when she was abducted on Friday and driven to a district bordering the Sikh holy city of Amritsar, local police officer Raj Jeet Singh said.
Five men joined the driver and conductor, who had taken her by motorbike to an unknown address, and took turns raping the victim before dropping her off near her in-laws' village on Saturday morning, he said.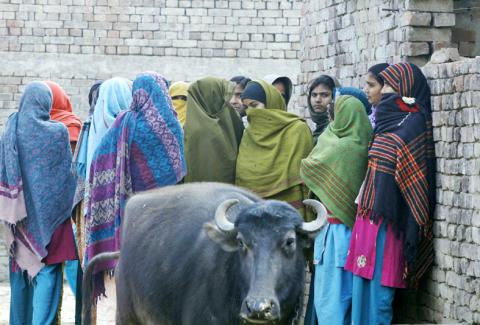 Neighbors of the mother of a juvenile accused in the New Delhi gang-rape case gather outside her home in Uttar Pradesh, India, on Wednesday.
Photo: Reuters
"The lady, after being kidnapped, was raped brutally throughout the night by the seven accused," he said. "After raping the victim throughout the night, one of the accused dropped her near her in-laws' house the next morning where she narrated the whole incident to her two sisters-in-law."
He said the extent of her injuries had yet to be established.
The attack is disturbingly similar to the Dec. 16 gang-rape and murder of a 23-year-old student in Delhi, where five men are on trial in a case that has fueled anger across India over the treatment of women.
Partap Singh Bajwa, a local Congress Party politician, blamed the police for not enforcing checks on buses operating in the state.
"It all happened due to laxity of police as they never bother to check out the buses moving on national highways during nighttime," Bajwa told reporters.
Protesters across India have called for the police to be more vigilant and sensitive to the growing incidence of sexual assault against women, after details emerged of the New Delhi attack.
Police and prosecutors have outlined how the alleged rapists picked up the student and her male companion in a school bus which they had taken for a joyride after drinking heavily.
The bus would have had to cross numerous police checkpoints at that time of night, but at no stage was the vehicle pulled over by officers.
The group allegedly beat up the woman's male companion and then raped her in the back of the bus while driving around Delhi for about 45 minutes.
She died in a Singapore hospital 13 days after the attack from injuries sustained during the assault.
Comments will be moderated. Keep comments relevant to the article. Remarks containing abusive and obscene language, personal attacks of any kind or promotion will be removed and the user banned. Final decision will be at the discretion of the Taipei Times.