Taipei dismisses fears about Neihu landfill waste
Taipei's Department of Environmental Protection yesterday dismissed allegations of toxic waste in the landfill in the city's Neihu District (內湖), which is being used as a source of construction material for Taipei Port in New Taipei City (新北市), insisting that it has conducted toxicity tests to prevent any pollution.
The waste from the landfill, colloquially known as the "Neihu Garbage Mountain," has been used in a sea reclamation project in the port in Bali District (八里). A report published in yesterday's edition of the Chinese-language weekly Next Magazine accused the department of using toxic waste from the landfill for the project, which could cause pollution harmful to fish and other marine life.
Waste from the Neihu landfill was originally planned to be relocated, but no other cities agreed to take it. Later, the department agreed to give the waste to New Taipei City for the port project, sparking concern among Bali residents that toxic materials in the waste might pollute the waters of nearby fishing ports, the magazine said.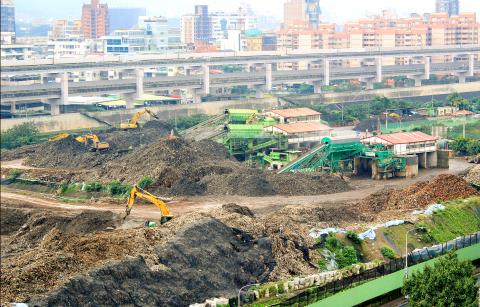 Workers from the Taipei City Government's Department of Environmental Protection yesterday remove material from the Neihu landfill to be used for a land reclamation project in New Taipei City's Bali District. The latest issue of Next Magazine reported that the material might be toxic.
Photo: CNA
Department Commissioner Wu Sheng-chung (吳盛忠) yesterday dismissed the allegations, insisting that all the soil and waste in the landfill underwent a series of toxicity and chemical tests before being transported to other locations.
"We handled the reuse of the waste in accordance with legal procedures, and we have conducted 283 heavy metal tests on the waste so far to make sure that it will not cause any soil pollution," he said.
The garbage mountain — actually a landfill that was first used in 1970, but was closed in 1985 — covers 15 hectares, with 5 hectares occupying one-third of the portion of the Keelung River that passes through Neihu. More than 313,000 tonnes of trash have been stored at the site.
The city government had allocated NT$1.4 billion (US$42.2 million) to clean up the landfill and transform the site into a park by 2011, but the plan has run into continuous delays.
Wu said the city government has removed 860,00m3 of the waste so far, and the concentration of chemicals in the waste has been under the maximum limit set by environmental protection regulations.
Comments will be moderated. Keep comments relevant to the article. Remarks containing abusive and obscene language, personal attacks of any kind or promotion will be removed and the user banned. Final decision will be at the discretion of the Taipei Times.