DPP sets demands for calling off rally
DIFFERENCE OF OPINION: The president's spokesman defended the Cabinet's performance and reiterated Ma's offer to meet Su to discuss crucial national issues
Democratic Progressive Party (DPP) Chairman Su Tseng-chang (蘇貞昌) yesterday said that his party would call off a mass protest planned for Jan. 13 if President Ma Ying-jeou (馬英九) met the party's three demands: reshuffle the Cabinet, reject the controversial Next Media Group (壹傳媒集團) deal and hold a national affairs conference.
"We hope that Ma will agree to the demands and, if he does, we will not take to the streets," Su said after the DPP's weekly Central Standing Committee meeting.
The three demands are not new — the DPP has repeatedly made these appeals, Su said.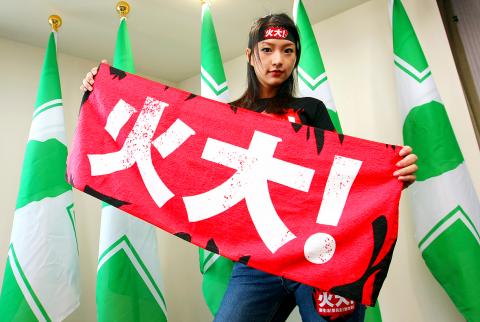 A Democratic Progressive Party supporter promotes a protest march scheduled for Jan. 13 during a press conference in Taipei yesterday.
Photo: CNA
"Only a Cabinet reshuffle will lift the economy and improve people's livelihood. Rejecting the Next Media deal will prove that Ma is serious about safeguarding Taiwan's democracy and opposes media monopolies. The crises that are affecting the country can be discussed in a national affairs conference," Su said.
While Ma said on Tuesday night that he hoped to meet with Su for discussions, the DPP chairman said a meeting was not necessary because he would make the same demands at the meeting.
A meeting between two party leaders will not solve the nation's pension problems or its finances, DPP spokesperson Lin Chun-hsien (林俊憲) said.
That is why a national affairs conference, which would gather political parties and representatives from different groups and classes, is imperative to find a solution, Su said.
As of yesterday, the DPP continued its planning and preparations for next week's rally in Taipei, with the party announcing six rallies to "warm-up" for the big protest.
Rallies will be held in New Taipei City's (新北市) Sinjhuang District (新莊) on Friday, Chiayi County's Puzih City (朴子) and Greater Tainan on Saturday, Pingtung County and Greater Kaohsiung on Sunday and Changhua County's Lugang Township (鹿港) on Wednesday next week.
Former vice president Annette Lu (呂秀蓮), former DPP chairperson Tsai Ing-wen (蔡英文) and former premiers Yu Shyi-kun and Frank Hsieh (謝長廷) will take part in the Jan. 13 protest, which is scheduled to start at 3pm in front of the Taipei City Government and arrive at Ketagalan Boulevard in front of the Presidential Office in time for an evening rally, Lin said.
Presidential Office spokesman Fan Chiang Tai-chi (范姜泰基) responded to the DPP's call by dismissing the conditions proposed by Su, accusing the DPP of using the freedom of assembly as a political bargaining chip.
"The freedom of assembly is a basic right granted to people by the Constitution, not a political bargaining chip between political parties. We urge the opposition parties to stop these confrontations and join the government in promoting public interests," he said.
Fan Chiang defended the Cabinet's efforts to boost the economy, adding that the president would not interfere in the sale of media organizations.
As for the call for a national affairs conference, he said Ma's offer to meet with Su stands, and the president looks forward to discussing major national issues with the opposition leader.
"President Ma has extended an invitation to Su for a meeting, which would be a great opportunity for the government and the opposition to discuss crucial issues," he said.
Additional reporting by Mo Yan-chih
Comments will be moderated. Keep comments relevant to the article. Remarks containing abusive and obscene language, personal attacks of any kind or promotion will be removed and the user banned. Final decision will be at the discretion of the Taipei Times.