Indian gang-rape victim dies of her injuries; suspects face murder charges
A woman whose gang rape sparked protests and a national debate about violence against women in India died of her injuries yesterday, prompting a security lockdown in New Delhi and an acknowledgement from India's prime minister that social change is needed.
The six suspects held in connection with the Dec. 16 attack on the 23-year-old medical student on a New Delhi bus were charged with murder following her death, police said. The maximum penalty for murder is death.
Earlier, bracing for a new wave of protests, Indian authorities deployed thousands of policemen, closed 10 metro stations and banned vehicles from some main roads in the heart of New Delhi, where demonstrators have converged since the attack to demand improved women's rights.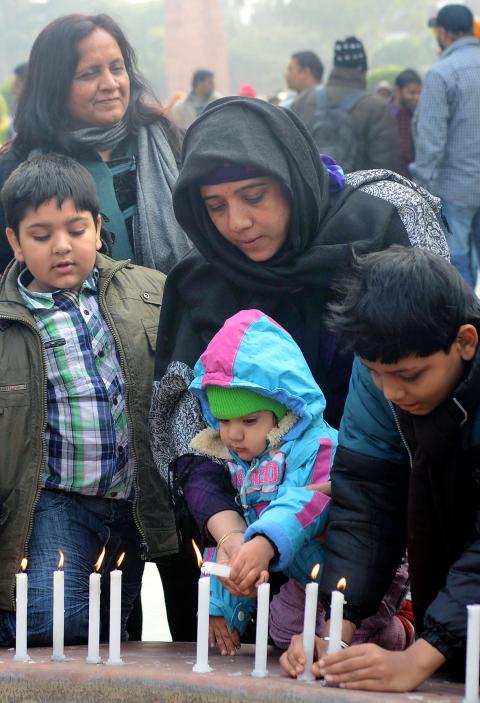 Mourners light candles for a deceased gang-rape victim during a rally yesterday at Jallian Wala Bagh in Amritsar, India.
Photo: AFP
Despite efforts to cordon off the city center, more than 1,000 people gathered for peaceful protests at two locations. Some protesters shouted for justice, others for the death penalty for the rapists.
The woman, who was severely beaten, raped and thrown out of a moving bus, had been flown to Singapore in critical condition by the Indian government on Thursday for treatment.
The intense media coverage of the attack and the use of social media to galvanize protests, mostly by young middle-class students, has forced political leaders to confront some uncomfortable truths about the treatment of women in the world's largest democracy.
Most sex crimes in India go unreported, many offenders go unpunished and the wheels of justice turn slowly, according to social activists who say that successive governments have done little to ensure the safety of women.
"The need of the hour is a dispassionate debate and inquiry into the critical changes that are required in societal attitudes," Indian Prime Minister Manmohan Singh said in a statement.
"I hope that the entire political class and civil society will set aside narrow sectional interests and agenda to help us all reach the end that we all desire — making India a demonstrably better and safer place for women to live in," he said.
Hundreds of protesters took to the streets in the northern city of Lucknow. In Hyderabad, in the south, a group of women marched to demand severe punishment for the rapists. Protests were also held in the cities of Chennai, Kolkata and Mumbai.
The demonstrations were peaceful, unlike last weekend, when police used batons and water cannon in clashes with protesters.
Sonia Gandhi, the powerful leader of the ruling Congress party, directly addressed the protesters in a rare broadcast on state TV, saying that as a mother and a woman, she understood their grievances.
"Your voice has been heard," Gandhi said. "It deepens our determination to battle the pervasive and the shameful social attitudes that allow men to rape and molest women with such impunity."
The Indian government has chartered an aircraft to fly the student's body back to India yesterday, along with members of her family.
Comments will be moderated. Keep comments relevant to the article. Remarks containing abusive and obscene language, personal attacks of any kind or promotion will be removed and the user banned. Final decision will be at the discretion of the Taipei Times.