Obama to visit grief-stricken families
TIME FOR ACTION: The US president was scheduled to speak at a vigil at 7pm local time in Sandy Hook, as a number of Democrats called for tougher gun control measures
US President Barack Obama was due to arrive in Connecticut yesterday to mourn the dead and console the survivors of a gunman's rampage that killed 20 children after he forced his way into their school and shot them.
Connecticut Governor Dannel Malloy yesterday became the latest public figure to call for new gun control measures following Friday's rampage that left 28 dead, including the gunman who used high-powered firearms.
"These are assault weapons. You don't hunt deer with these things," Malloy said on the CNN program State of the Union.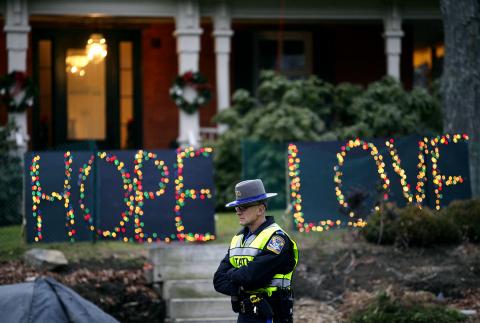 A Connecticut State Police Officer stands at an intersection in Newtown, Connecticut.
Photo: Reuters
The president was due to arrive after authorities released the names of the dead on Saturday and more details emerged about the victims and the rampage itself.
After killing his mother at home, Adam Lanza, 20, forced his way into the Sandy Hook Elementary School and started firing at the children, most if not all with a powerful rifle — a military-style Bushmaster .223 M4 carbine — at close range. He also killed six adult women at the school and himself, putting the death toll at 28.
Though Americans have seen many mass shootings over the years, the victims have rarely been so young.
Malloy, referring to the shooter, said: "We know that he was a troubled individual, and that he went to school with a number of weapons which he used on his victims and ultimately used on himself ... I'm sure we'll come to know more about him and his problems and his family."
Nancy Lanza legally owned a Sig Sauer and a Glock, both handguns commonly used by police, and the military-style Bushmaster long gun, according to law enforcement officials.
Those weapons were the ones used by her son in the massacre.
"The mother purchased them. And they have the patina of legal purchases. I mean, there's always a question: Was she purchasing them for herself? ... If she was purchasing them for another individual, her son, then there's a question about that purchase," the governor said.
On Saturday, some Democratic lawmakers called for sweeping new gun-control measures, a move certain to encounter forceful opposition from the nation's pro-gun lobby.
Malloy, a Democrat, added his voice to the gun-control calls yesterday. US lawmakers have not approved a major new gun law since 1994, and they let a ban on certain semi-automatic rifles known as assault weapons expire in 2004.
Malloy lamented that the ban on assault weapons was allowed to lapse. He also said a lot of guns used in crimes in his state were actually purchased in other states and brought to Connecticut.
"Connecticut has a pretty aggressive law. Probably of the 50 states, I think we're ranked fourth-most aggressive in trying to limit access to these kinds of weapons," the governor said.
School district officials said classes would resume tomorrow, except at Sandy Hook. As of Saturday night, they were still working on a plan for how and where to let the school's kindergarten-through-fourth-grade classes resume.
Obama was scheduled to speak at a vigil at 7pm in the affluent town of 27,000 people about 130km from New York City.
Police said on Saturday they had assembled "some very good evidence" on the killer's motives, but revealed little.
Lanza had struggled at times to fit into the community and his mother Nancy pulled him out of school for several years, to home-school him, said Louise Tambascio, the owner of My Place Restaurant, where his mother was a long-time patron.
His father, Peter Lanza, issued a statement saying the family was in a "state of disbelief."
"We too are asking why," the statement said.
Comments will be moderated. Keep comments relevant to the article. Remarks containing abusive and obscene language, personal attacks of any kind or promotion will be removed and the user banned. Final decision will be at the discretion of the Taipei Times.