Nantou County head faces graft charges
LOCKED UP: The Nantou District Court ordered that the county's commissioner and three others be detained over their alleged involvement in public projects corruption
Nantou County Commissioner Lee Chao-ching (李朝卿), a member of the Chinese Nationalist Party (KMT), was detained by judges yesterday on charges of corruption and violations of the Government Procurement Act (政府採購法).
In line with the Local Government Act (地方制度法), Lee's commissionership was suspended immediately by the Ministry of the Interior after the court's decision.
The Nantou District Court ruled yesterday afternoon that Lee must be detained on the grounds that he might escape, destroy evidence or conspire with others on his statements if he was free.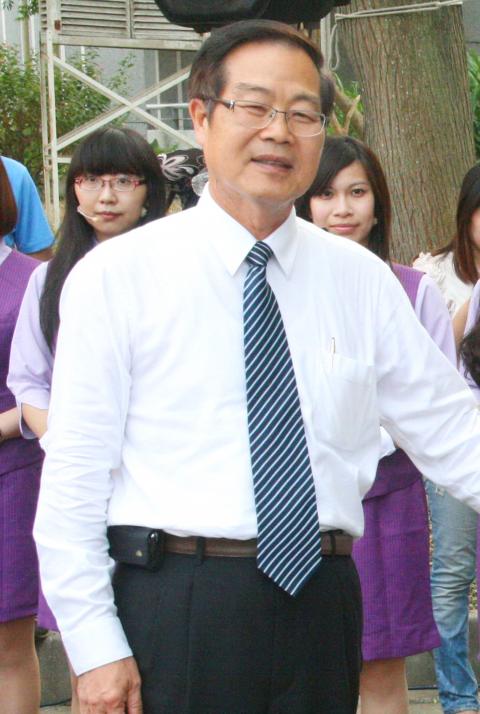 An undated file photograph shows Nantou County Commissioner Lee Chao-ching.
Photo: CNA
The district court also granted prosecutors' requests to detain the director of the county government's public works department, Huang Jung-te (黃榮德), as well as Lee's secretary, Chang Chih-yi (張誌誼), and a contractor, Wu Chung-chi (吳仲琪).
Prosecutors said they suspected that the county government received kickbacks from contractors who won public projects for fixing road damage caused by various typhoons or floods.
Saying that the county government had conducted a number of road maintenance projects between Sept. 2010 and September this year, prosecutors added they suspected that the county government divided the construction projects into smaller ones, each with a budget of NT$1 million, so it could assign contractors without inviting public tenders as required by the Government Procurement Act (政府採購法).
Prosecutors alleged that Huang and Chang were responsible for contacting Wu and other contractors, and took bribes, while part of the money allegedly later found its way into Lee's pockets.
Almost NT$10 million (US$343,800) in dirty money was identified in 10 projects, prosecutors said.
On Thursday, the prosecutors searched Lee's office and a number of locations, seized NT$300,000 in cash in tea bags from Lee's office and more than NT$1 million in cash in Huang's house, as well as NT$2.4 million in cash in Wu's residence.
According to the prosecutors, Lee was unable to explain the origins of the money. Lee denied any involvement in the corruption, the prosecutors added.
At a separate setting yesterday, KMT spokesman Yin Wei (殷瑋) said the party would start disciplinary procedures to look into Lee's alleged involvement in the case.
Yin said the KMT respects the legal system and President Ma Ying-jeou (馬英九), who doubles as KMT chairman, has instructed the party to look into the situation and handle the case with caution.
However, the KMT late yesterday announced that its Evaluation and Discipline Committee decided to revoke Lee's party rights over his alleged involvement in the case.
Yin said party regulations stated that KMT members should be stripped of party rights if found guilty in a first trial. The committee decided to revoke his party rights now as the public expects politicians to have integrity, he said.
Commenting on the case, Democratic Progressive Party (DPP) spokesman Wang Min-sheng (王閔生) said the DPP urged the Ma administration to immediately launch a comprehensive nationwide investigation into how money earmarked for post-disaster rebuilding projects was spent.
"Budgets were allocated for various post-disaster rebuilding projects to save lives and to improve the livelihood of victims in natural disasters. We can hardly believe that an elected official would receive kickbacks from the projects' contractors," Wang said.
This was why the current case was more serious than other corruption scandals and the Ma administration should conduct a complete probe, he added.
Comments will be moderated. Keep comments relevant to the article. Remarks containing abusive and obscene language, personal attacks of any kind or promotion will be removed and the user banned. Final decision will be at the discretion of the Taipei Times.