Ma vows to bolster trade ties as Wang Jin-pyng cites Japanese investment fall
OFF-TARGET: Despite the signing of an investment accord, Japanese investment in Taiwan has declined in the first six months compared with the past three years
President Ma Ying-jeou (馬英九) yesterday promised to strengthen relations with nations that do not have formal ties with Taiwan and present a series of projects to revive the economy as he met with Japan's Interchange Association Chairman Mitsuo Ohashi.
Ma said relations between Taiwan and Japan had greatly improved with the signing of a bilateral investment accord, a youth working holiday pact and an open skies agreement. The resumption of direct flight services between Taipei International Airport (Songshan) and Tokyo's Haneda airport has boosted tourism between the two nations.
Ma expressed his hope that the two countries would discuss the signing of a free-trade agreement in the near future.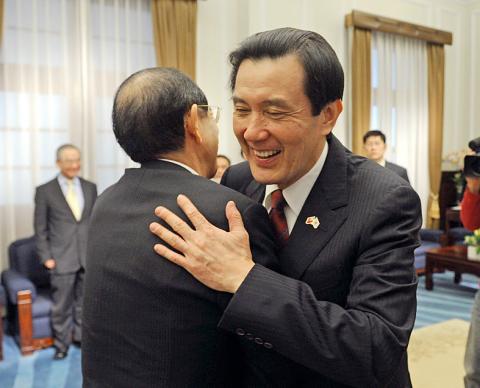 President Ma Ying-jeou, right, gives Japan Interchange Association Chairman Mitsuo Ohashi a big hug yesterday as he receives Ohashi at the Presidential Office in Taipei.
Photo: CNA
Ohashi is in Taipei for the 37th Taiwan-Japan Trade and Economic Meeting.
Legislative Speaker Wang Jin-pyng (王金平) also met Ohashi yesterday.
Following the closed-door meeting, Wang told reporters he had expressed concern over the significant decline of Japanese investment in Taiwan this year.
According to statistics from the Investment Commission at the Ministry of Economic Affairs, Japanese investment last year amounted to US$444.87 million, up from US$400.5 million in 2010 and US$238.97 million in 2009.
Taiwan and Japan signed an investment agreement in September last year that came into effect in November and contained several provisions, including the treatment of investors on equal terms with local citizens and most-favored nation elements.
The pact was touted as an arrangement that could boost Japanese enterprises' interest in investing in Taiwan. However, Taiwan has only seen US$40 million in investments from Japan in the first half of this year, government statistics showed.
Ohashi said his association would encourage Japan's small and medium-sized enterprises to see Taiwan as an attractive investment destination and to seek vertical integration in supply chains in the country, Wang later said.
Wang added that the upcoming preparatory meeting for a possible new round of fisheries talks, which would be the 17th session of such talks, was not a main issue of his 20-minute discussion with Ohashi.
However, Wang said he told Ohashi that Taiwanese expected concrete results from the new round of talks to resolve longstanding disputes over fishing rights.
"[If the talks fail again,] it won't look good to the public," he said.
Comments will be moderated. Keep comments relevant to the article. Remarks containing abusive and obscene language, personal attacks of any kind or promotion will be removed and the user banned. Final decision will be at the discretion of the Taipei Times.