Sandy wreaks havoc in the US' east coast
Millions of people across the eastern US awoke yesterday to scenes of destruction wrought by monster storm Sandy, which knocked out power to huge swathes of the nation's most densely populated region, swamped New York's subway system and submerged streets in Manhattan's financial district.
At least 15 people were reported killed in the US by Sandy, one of the biggest storms to ever hit the country, which dropped just below hurricane status before making landfall on Monday night in New Jersey.
The storm interrupted the US presidential campaign a week before election day — posing both risks and opportunities for US President Barack Obama as he seeks a second term — and closed US financial markets for a second day.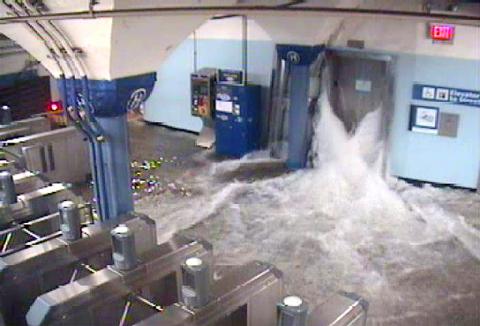 Floodwaters from Hurricane Sandy rush into the New York/New Jersey Port Authority Trans-Hudson's Hoboken, New Jersey, station through an elevator shaft in this video frame grab from the Port Authority's twitter feed on Monday.
Photo: Reuters
More than 1 million people in a dozen states were under orders to evacuate as the massive system continued its trek westward. It left behind a trail of damage — homes underwater, trees toppled and power lines downed — caused by epic flooding and fierce winds all along the eastern seaboard.
Obama issued federal emergency decrees for New York and New Jersey, declaring that "major disasters" existed in both states. One disaster forecasting company predicted economic losses could ultimately reach US$20 billion, only half insured.
"It's total devastation down there, there are boats in the street five blocks from the ocean," evacuee Peter Sandomeno said.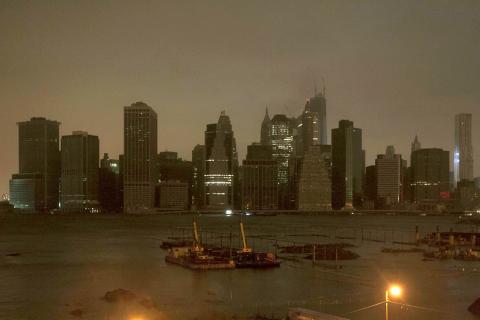 The skyline of lower Manhattan sits in darkness after a preventive power outage in New York on Monday.
Photo: Reuters
Firefighters in boats rescued more than 25 people from 50 homes in a New York neighborhood that were destroyed by a mass blaze after the storm, officials said yesterday.
The Breezy Point District of Queens was left a smoldering tangle of wood and metal yesterdayafter the blaze. Firefighters said it was "a miracle" that only two minor injuries were reported.
Sandy, which was especially imposing because of its wide-ranging winds, which brought a record storm surge of almost 4.2m to downtown Manhattan, well above the previous record of 3m during Hurricane Donna in 1960, the US National Weather Service said.
Walter Martiniano wades through a flooded street in the Red Hook neighborhood of Brooklyn in New York, U.S., on Monday.
Photo: Bloomberg
Water poured into the subway system and tunnels that course under the city, raising concerns that the world's financial capital could be hobbled for days.
Hurricane-force winds as high as 145kph were recorded, said Jeffrey Tongue, a meteorologist for the weather service in Brookhaven, New York.
Large sections of New York City were without power, and transportation in the metropolitan area was at a standstill.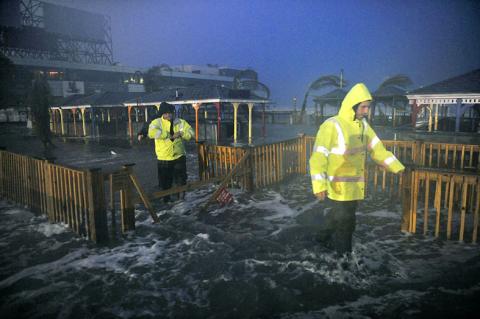 People walk through water on the beach near the time of high tide as Hurricane Sandy approaches on Monday in Atlantic City, New Jersey.
Photo: AFP
It could take anywhere from 14 hours to four days to get the water out of the flooded subway tunnels, the Metropolitan Transportation Authority said.
Two people in New York City reportedly died in the storm: a man in a house hit by a tree and a woman who stepped into an electrified puddle of water. Two other people were killed in suburban Westchester County, north of New York City, and two others were reported killed on suburban Long Island.
A motor vehicle death in Massachusetts was blamed in part on the bad weather. Two other people were killed in Maryland in storm-related incidents, state authorities said. Deaths also were reported in Connecticut, New Jersey, Pennsylvania and West Virginia, CNN said.
Sandy killed 66 people in the Caribbean last week before pounding US coastal areas.
More than 7 million people in several states were without electricity due to the storm.
Two nuclear power plants were shut down early yesterday in the aftermath of Sandy, but the plant operators stressed there were no risks to the public.
New Jersey's main power company PSEG Nuclear shut down its Salem 1 unit on the Delaware river, saying most of its water circulation pumps had been rendered unusable "due to weather impacts."
In New York, power generator Entergy shut down a unit of its Indian Point nuclear facility "due to external electrical grid issues."
Another unit remained at full power, and Entergy said on Twitter that there was "no risk" to the public or company employees.
Comments will be moderated. Keep comments relevant to the article. Remarks containing abusive and obscene language, personal attacks of any kind or promotion will be removed and the user banned. Final decision will be at the discretion of the Taipei Times.