Tseng launches exhibition, fan club
Taiwanese golfer Yani Tseng (曾雅妮) vowed to work harder to keep her world No. 1 status after finally rebounding from a slump in form to secure third place at the LPGA Hana Bank Championship in South Korea on Sunday.
Tseng returned home on Sunday night for the LPGA Taiwan Championship, which starts on Thursday.
At a press conference in Taipei yesterday she launched an exhibition entitled "Smile and Courage," in which her diaries and some personal items will be on display until Nov. 4.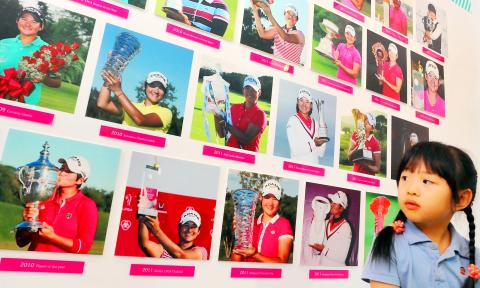 A girl looks at photographs of golfer Yani Tseng during a press conference in Taipei yesterday.
Photo: AFP
One of the items is a diary she kept during the Women's British Open in 2010, which she won.
In it she wrote: "Help me, God! There were so many holes, and how come I did not put the ball into any of them? I think I am about to collapse. Help me!"
She joked that the diary was not supposed to be made public.
Tseng's international fan club was also launched yesterday. To celebrate, Taiwanese taekwondo athlete Tseng Li-cheng (曾櫟騁), who won bronze at the London Olympics was in attendance.
Seeing the support from fans, Tseng eye's filled with tears and she said that she would continue to work hard. She is in her 89th week as the women's world No. 1.
Tseng won 12 championships last year, including seven LPGA tour titles. She also won the LPGA Championship and Women's British Open last year.
However, her outstanding run of form ended in June. Since then, she failed to achieve a top 10 finish in 11 successive tournaments, failing to make the cut in three of them.
She said that she hit a low point in her life during that period and had hoped that she would recover her form in the Asian tournaments, which began earlier this month.
"The truth is I don't know why I was in a slump," she said. "Maybe I care too much about the No. 1 position, care too much about my performances. Or perhaps I care too much what other people think about me. Somehow I lost the joy of playing golf, but I've tried to rediscover the reason why I played golf in the first place. I played it because it made me happy."
"I want to use the sport to help others and tell others that they can pursue their dreams like I do," she said.
Tseng said that she was ready for the LPGA Taiwan Championship.
"I think I am in good condition," she said. "What happened to me last week has boosted my confidence. I'm really looking forward to it. I hope that more fans can come to the golf course and cheer for the Taiwanese golfers. We will try to keep the championship trophy in Taiwan."
Comments will be moderated. Keep comments relevant to the article. Remarks containing abusive and obscene language, personal attacks of any kind or promotion will be removed and the user banned. Final decision will be at the discretion of the Taipei Times.