Next Media set to lay off hundreds
Hundreds of Next Media Group employees will lose their jobs after the group yesterday announced restructuring plans, adding that it would sell Next TV to ERA Communications Inc (年代集團).
Next Media Group executive director Cassian Cheung (張嘉聲) said in a written statement that the group had signed a memorandum of understanding (MOU) with ERA chairman Lien Tai-sheng (練台生) about the sale.
Cheung said the group had made substantial investments in Taiwan over the past three years with the goal of establishing a world-class, high-quality digital TV service and video on demand (VOD) platform.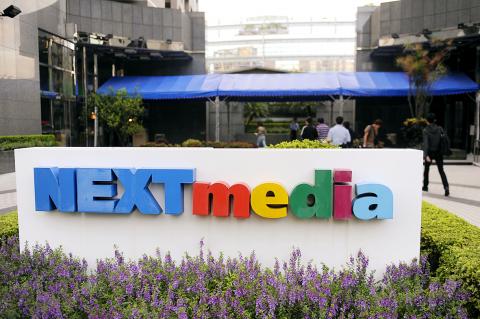 Staff enter Next Media Group's office building after the company announced yesterday that it signed a deal to sell its TV arm to ERA Communications Co and that about 500 employees are set to be laid off.
Photo: Sean Chao, Taipei Times
"However, the plan was delayed by the National Communications Commission because of its long review procedure," Cheung said. "Next TV channels were prevented from being listed in cable TV services because of the current stakeholders in the cable TV systems and consequently, a majority of TV audiences in Taiwan cannot watch Next TV."
"Despite the challenge, we were still proud of having been able to raise the quality of the nation's TV and multimedia industry," Cheung said.
Aside from Next TV network, Cheung said the group would soon terminate its VOD service.
The decision, he said, was made after thoroughly and carefully considering the future development of these divisions.
"Because [Next TV channels] are unable to be included in the mainstream cable TV service, the best option is to merge with a current TV operator," Cheung said. "As such, we must terminate the multimedia division, which has been coordinating with Next TV."
Next TV spokesman Chang Hsiu-cher (張修哲) said the two groups were scheduled to sign an official contract within a month of signing the MOU.
The group hopes the transaction will take effect on Jan. 1, he said.
Next Group chairman Jimmy Lai (黎智英) also apologized to Next TV employees in a text message for what he called his personal mistakes.
"I failed in TV and have no regret, but I feel deeply sorry for the colleagues who worked hand-in-hand with me in a slim hope," Lai said.
"It was my mistake that made you lose three years of your precious youth. I have nothing to repay you. I can only say I am sorry and ask for your forgiveness. Please take care of yourself," he said.
Meanwhile, Next Media Group reported to the Taipei City Government's Department of Labor that it planned to lay off 504 employees, including 204 from its VOD service division, and 300 from its TV network.
The department confirmed it had received Next Media's plan to lay off workers, but said that it would ask the group to provide more information to prove the legitimacy of its actions.
Next Media Group promised that each laid-off employee would receive severance pay higher than the legal requirement.
Last month, Next Media had also said in a voluntary notice to Hong Kong Exchanges and Clearing that it was approached by an independent third party interested in purchasing three media outlets in the group, including Chinese-language dailies Apple Daily (Taiwan) and Sharp Daily, as well as Next Magazine.
Aside from being the chairman of ERA TV Network, Lien is also the chairman of Cashbox KTV. An army veteran, he rose to prosperity by working his way up from a position as a part-time employee in a video store.
The change of ownership and board of directors at Next TV still has to be approved by the commission.
ERA executive director Wang Yi-ling (王宜陵) could not be reached for comment.
Comments will be moderated. Keep comments relevant to the article. Remarks containing abusive and obscene language, personal attacks of any kind or promotion will be removed and the user banned. Final decision will be at the discretion of the Taipei Times.