Aung San Suu Kyi victorious: NLD
Myanmar's opposition claimed a historic victory yesterday for pro-democracy leader Aung San Suu Kyi in her bid for a seat in parliament, sparking scenes of jubilation among crowds of supporters.
Hundreds of people clapped and cheered as a giant screen outside her National League for Democracy (NLD) party headquarters in Yangon announced the Nobel Peace Prize winner had won a parliamentary seat for the first time.
Some people wept with joy at the news, which if confirmed would mark a stunning turnaround for the former political prisoner, who was locked up by the former junta for most of the past 22 years.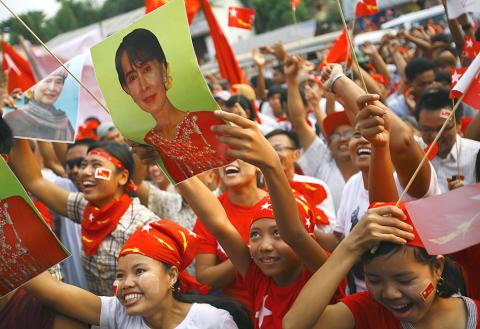 Supporters of the National League for Democracy party hold up portraits of Aung San Suu Kyi as they watch the vote count on a giant screen in Yangon, Myanmar, yesterday.
Photo: Reuters
"We have been waiting for this day for a long time. I'm so happy," said NLD supporter Kalyar, who goes by one name.
Aung San Suu Kyi won an estimated 99 percent of the votes in Kawhmu constituency, according to NLD official Soe Win, based on the party's own tally. There was no independent confirmation and official results were expected within a week.
The party also claimed it was on course to win all 44 seats it contested in the by-elections, in which a total of 45 seats were at stake — not enough to threaten the army-backed ruling party's huge majority.
Observers believe Myanmar's new reform-minded quasi-civilian government wanted Aung San Suu Kyi to win a place in parliament to burnish its reform credentials and smooth the way for an easing of Western sanctions.
Many of her supporters had earlier waited for hours in searing heat to catch a glimpse of the 66-year-old Aung San Suu Kyi, who was running for political office for the first time.
Her main rival in the rural Kawhmu constituency, two hours' drive from Yangon, was a former military doctor with the ruling Union Solidarity and Development Party.
Voters, some in traditional ethnic Karen dress, queued patiently to cast their votes. In stark contrast to life under the junta, many openly expressed their support and affection for "the Lady."
"There's only been one person for us for 20 years," Tin Zaw Win said. "We believe in her and want to vote for her. Almost my whole village will vote for Aunt Suu."
Some people said their names were missing from the voter lists, although it was unclear how many were affected.
"I want to vote for Mother Suu, but they haven't given me my ballot paper so I'm here to demand it," Zin Min Soe said at a polling station.
"They can't just lose my vote," he said.
The polls were also marred somewhat by allegations of ballot-paper irregularities, notably that wax had been put over the check box for the NLD, which could be rubbed off later to cancel the vote.
It was not immediately clear how widespread irregularities were.
Comments will be moderated. Keep comments relevant to the article. Remarks containing abusive and obscene language, personal attacks of any kind or promotion will be removed and the user banned. Final decision will be at the discretion of the Taipei Times.