DPP wins Huatan mayor by-election
The Democratic Progressive Party (DPP) yesterday won the mayoral by-election of Huatan Township (花壇) in Changhua County — a win the party claimed was a victory against rampant vote-buying practices in the region.
Yesterday's by-election was the third election for the post in the past two years, with the previous elections invalidated because of lawsuits over alleged vote-buying.
Worried that vote-buying might once again affect the outcome, the DPP on Friday called for a clean fight and urged judicial authorities to pay careful attention to the problem.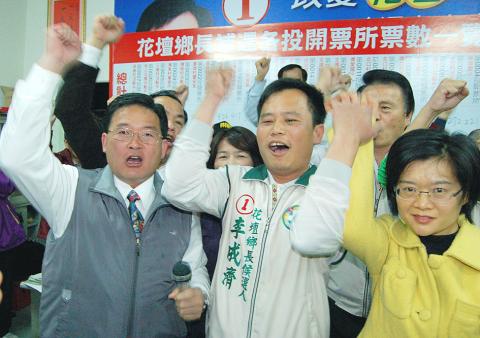 Lee Cheng-chi, center, celebrates yesterday at his election headquarters in Huatan, Changhua County, after his landslide victory in the Huatan Township mayoral election.
Photo: Tang Shih-ming, Taipei Times
According to a tally from the Changhua County Election Commission last night, DPP candidate Lee Cheng-chi (李成濟) secured 7,425 votes, independent candidate Li Yueh-min garnered 4,936 votes and another independent, Huang Chien-chang (黃健彰), the son of former township mayor Shih Hua-fen (施華芬), received 4,569 votes. Yesterday's voter turnout was 47 percent among the 35,712 eligible voters, the commission said.
"As long as DPP members persist in their effort to defeat local factions controlled by members of the Chinese Nationalist Party (KMT), the DPP should win recognition from the people," DPP spokesperson Lo Chih-cheng (羅致政) yesterday evening quoted DPP Chairperson Tsai Ing-wen (蔡英文) as saying.
Former DPP legislator Wong Chin-chu (翁金珠), who previously represented Changhua, also commented on the DPP's victory.
He said that besides the surge in commodity prices that had occurred under President Ma Ying-jeou's (馬英九) administration, voters had been enraged to learn that Ma was considering easing the import ban on US beef with ractopamine residues.
Many DPP supporters, indignant over Tsai's loss in the Jan. 14 presidential election, had campaigned for Lee, Wong said.
He added that the township had drawn the attention of the authorities by having three by-elections in two years, and was therefore able to deter vote-buying in yesterday's vote.
Lee put the vote-buying issue at the forefront of his campaign. The slogan "How many by-elections do we need?" earned him widespread recognition from the area's voters, Wong said.
Translated by Stacy Hsu, Staff Writer
Comments will be moderated. Keep comments relevant to the article. Remarks containing abusive and obscene language, personal attacks of any kind or promotion will be removed and the user banned. Final decision will be at the discretion of the Taipei Times.