Protesters urge better protections for migrant workers
About 2,000 people, including migrant workers, rights activists, unionists and college students, took to the streets in Taipei yesterday, calling on the government to better protect the rights of migrant domestic workers by giving them regular days off and establishing a minimum wage.
Holding up signs that read "Where are my days off?" in Indonesian, Thai, Vietnamese and Tagalog, the migrant workers and their Taiwanese supporters said that they wanted to have vacation time as they began their march at the Zhongxiao Fuxing MRT station.
"In 2007, migrant workers took to the streets for the first time, shouting: 'I want days off.' In 2009, they did it again, shouting: 'I still don't have any days off,'" Taiwan International Workers' Association chairperson Lorna Kung (龔尤倩) told the crowd.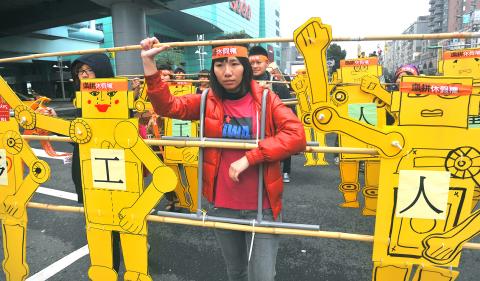 Demonstrators carry signs in the form of robots at a rally in downtown Taipei yesterday demanding legislation for weekly days off for migrant domestic workers.
Photo: Patrick Lin, AFP
"This year, unfortunately, migrant workers have to come out again and ask: 'Where are my days off?'" she said.
"Hopefully, next time when they're out on the streets, they are there to thank their Taiwanese supporters for giving them a hand in their struggle for holidays." Kung said.
Wang Wen-hsiu (王文秀), a specialist from the Presbyterian Church in Taiwan Labour Concerns Centre, which is a member organization of the Migrant Empowerment Network in Taiwan, said that of the 200,000 foreign domestic workers in the country, only 5.5 percent could have regular days off on public holidays and weekends. Moreover, as many as 42.4 percent of foreign domestic workers have not had a single day off this year, Wang said.
"On average, they work 13 hours a day and their passports are usually taken by their Taiwanese employers. They are also under the constant threat of being fired and sent home," Wang said. "So most of them don't dare to resist because, in order to come to Taiwan, they've borrowed a large amount of money — something like NT$200,000 — and they need to make money to pay back that debt."
A migrant worker from Vietnam surnamed Nguyen told the Taipei Times that during the nine years she has worked in Taiwan as a domestic caregiver, she has had almost no days off. Nguyen said she works more than 10 hours a day and that her passport was taken by her employer on her first day of work.
"For the first two or three years, I worked with no income since almost all of my wages were used to pay back the bank loan I took out so I could get to Taiwan," she said.
Although the Council of Labor Affairs recently drafted a bill regarding domestic workers with clauses that would give foreign domestic workers days off, Kung said they were virtually useless since, according to the draft bill, the days-off rule could be changed during negotiations between the employer and the foreign worker.
"Finding themselves in such a difficult position, what foreign domestic worker could negotiate with his or her employer on an equal footing?" Kung asked.
Besides questioning the government's efforts, Kung called on Taiwanese employers to give foreign domestic workers a break.
"Most foreign domestic workers take care of the elderly and the physically challenged, but only when they have had enough rest can they provide quality care for the needy in your family," she said.
Only when migrant workers are paid the same as Taiwanese workers can the latter stop worrying that their jobs will be taken by foreign workers, she said.
"Workers should stand united and Taiwanese workers should help migrant workers get equal pay," Kung said. "Because when migrant workers receive a lower wage, the employer will always want to hire migrant workers and take away your jobs."
Comments will be moderated. Keep comments relevant to the article. Remarks containing abusive and obscene language, personal attacks of any kind or promotion will be removed and the user banned. Final decision will be at the discretion of the Taipei Times.