2012 ELECTIONS: Tsai pledges 'justice' on Taipei housing
RENEWAL: DPP presidential candidate Tsai Ing-wen said yesterday she would turn Taipei into an affordable city with caring communities if she were elected president
Democratic Progressive Party (DPP) presidential candidate Tsai Ing-wen (蔡英文) yesterday hosted the launch of her regional campaign headquarters in Taipei City, where she pledged to make living in Taipei affordable for less well-off people and young adults.
Tsai said if she were elected president she would accomplish her goal by instigating state-initiated urban renewal and building social housing to turn Taipei into a city with justice in housing, as well as encouraging a caring society in which people would help each other.
"I will be the president if everyone of us works hard together — we will win this election," Tsai said to the crowd of supporters who rallied at the site.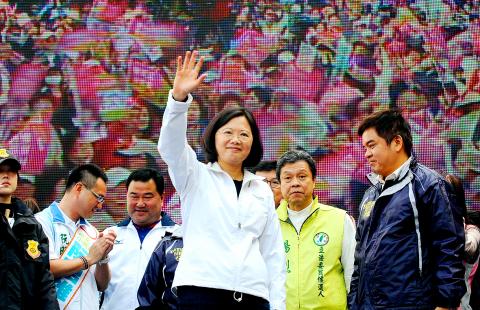 Democratic Progressive Party presidential candidate Tsai Ing-wen waves to supporters at the opening of the Taipei City headquarters of her presidential election campaign yesterday.
Photo: Lin Cheng-kung, Taipei Times
DPP heavyweights, including former premiers Su Tseng-chang (蘇貞昌) and Frank Hsieh (謝長廷), former vice president Annette Lu (呂秀蓮), former Examination Yuan president Yao Chia-wen (姚嘉文) and Taiwan Hakka Society chairman Chang Yeh-sen (張葉森), also took part in the rally where the excited crowd shouted "Little Ing (小英) will win!"
DPP spokesman Chuang Ruei-hsiung (莊瑞雄) said the party began its presidential campaign with the objective to move northward across the Jhuoshuei River (濁水溪), which separates Yunlin and Changhua counties, and now that the party is in a winning position there, it would move up to the Da-an River (大安溪), which is the northern end of Greater Taichung City.
"We are about to challenge the Chinese Nationalist Party [KMT] and take the Tamsui River (淡水河)," he said.
In her speech at the launch ceremony, Tsai said she grew up in Taipei City, which has residents from different ethnic backgrounds who earn a living doing different jobs.
Taipei played an important role in the DPP's early stages, so there's no reason for the party to move into a disadvantaged position in the city, she said, urging supporters to help make the DPP the dominant party in Taipei.
She added that Taipei has, however, become a city in which only the rich can afford to live and this is different from how she remembers the city of her childhood.
She said that both the wealthy and the economically disadvantaged should be able to live in Taipei and enjoy the convenience of the city. In addition, the elderly, young people and the disadvantaged should also be able to have a place in Taipei. She said that she would strive to make Taipei a city of tolerance.
Many people have complained that Taipei residents are cold, Tsai said, but Taipei residents can be warmhearted, too.
Tsai promised that if elected, she would develop an elderly care network, so that the state could help take care of families who could not afford to take care of their elderly members or children. Each community should have a community care network, she said.
Meanwhile, at a separate setting yesterday, while campaigning for KMT legislative candidate Chiang Hui-chen (江惠貞) in New Taipei City (新北市), President Ma Ying-jeou (馬英九), who is seeking re-election, continued to attack Tsai over the DPP's legislator-at-large list.
He asked how voters could have faith in Tsai's governance if she were elected when the list and her campaign team included people who had been involved in court cases.
Ma fired the same criticism at Tsai during Saturday's first televised presidential debate, in which Tsai responded by saying that "the entire team should not be judged by the acts of a few."
"If we are talking about the behavior of individuals, then I would like to ask President Ma how many people in the KMT have been involved in election irregularities or vote-buying," Tsai said in her response to Ma in the debate.
Comments will be moderated. Keep comments relevant to the article. Remarks containing abusive and obscene language, personal attacks of any kind or promotion will be removed and the user banned. Final decision will be at the discretion of the Taipei Times.