Big explosion at military arms depot injures eight
HAZARDOUS MATERIALS: The blast came as personnel were destroying flash grenades. The cause is under investigation and the arsenal's operations are suspended
An explosion erupted yesterday at a military arsenal in Yilan County, leaving seven employees and military personnel with life--threatening burns. The patients were first rushed to three local hospitals for treatment before being transferred to Tri-Service General Hospital's intensive care unit in Neihu (內湖), Taipei, and put on artificial respirators.
Dai Niann-tzyy (戴念梓), a doctor at the Tri-Service General -Hospital, said yesterday afternoon that six of the patients suffered burns covering 70 to 99 percent of their bodies. The seventh, a military officer, sustained complications from burns covering up to 50 percent of his body and an open fracture of his lower limbs. All seven of the blast's victims suffered inhalation burns, causing serious damage to their lungs.
An eighth individual injured less severely in the explosion was being treated by the hospital's regular burns unit, Dai said.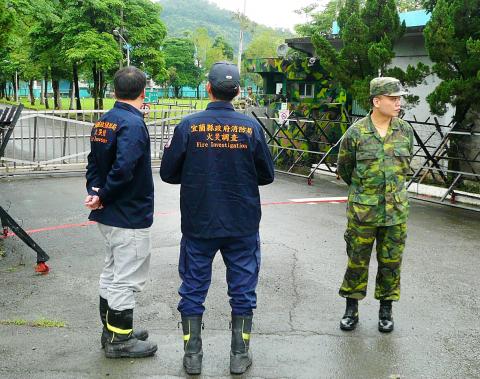 Members of the Yilan County Fire Investigation Unit wait outside an area closed off by police after an explosion at an arsenal in Yilan County yesterday.
Photo: Yang Yi-min, Taipei Times
The blast occurred at 9:15am as personnel at the arsenal in Yuanshan Township (員山) were destroying a batch of flash grenades, but the cause of the accident is still unknown, according to a Ministry of National Defense statement.
In the wake of the explosion, Minister of National Defense Kao Hua-chu (高華柱) immediately instructed the arsenal to suspend all operations pending an investigation. The military has also set up a task force to investigate the blast.
According to accounts from residents living nearby the military arsenal, at the time of the accident they first heard a loud explosion, followed by a few smaller blasts.
"I was tending my vegetable garden when I suddenly heard a loud explosion and the ground shook a little," said a resident named Huang Shu-mei (黃樹梅), who runs a convenience store nearby.
"I looked up and looked toward the arsenal and saw a stream of black smoke, followed by yellowish smoke … after that loud explosion, there were a few minor sounds of blasts," he added.
Among the eight injured, five were military personnel and three were civilian employees.
Tsao Chang-fa (曹長發), who sustained the most severe burns, has been an employee there for 30 years.
President Ma Ying-jeou (馬英九) was quoted by Presidential Office spokesperson Fang Chiang Tai-chi (范姜泰基) later yesterday as having expressed his concern over the matter. Ma has also instructed the Ministry of National Defense to provide the injured with the best medical services and treatment available, Fang -Chiang added.
Additional reporting by Yang Yi-min
Comments will be moderated. Keep comments relevant to the article. Remarks containing abusive and obscene language, personal attacks of any kind or promotion will be removed and the user banned. Final decision will be at the discretion of the Taipei Times.