2012 ELECTIONS: TSU sues president, Su Chi for treason
CONSPIRACY? TSU Chairman Huang Kun-huei said Ma and Su committed treason by fabricating the so-called '1992 consensus' and colluding with a foreign state
The Taiwan Solidarity Union (TSU) yesterday filed a lawsuit against President Ma Ying-jeou (馬英九) and former Mainland Affairs Council (MAC) chairman Su Chi (蘇起), accusing the two of treason by conspiring with China to create the so-called "1992 consensus," which the party said had never existed.
TSU Chairman Huang Kun-huei (黃昆輝) filed the lawsuit at the Taiwan High Prosecutors' Office after a press conference where he said Ma and Su should be held accountable for inventing the consensus, which could eventually jeopardize Taiwan's sovereignty.
"Politicians may lie, but they cannot betray the country, distort history and malign their superiors," Huang said at the press conference, reiterating that there was no consensus reached between Taiwan and China during his tenure as the MAC chairman from 1991 to 1994.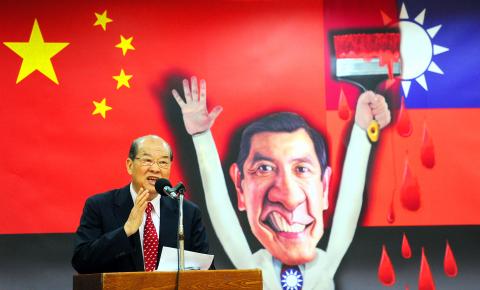 Taiwan Solidarity Union Chairman Huang Kun-huei speaks during a press conference yesterday about the party's treason lawsuit against President Ma Ying-jeou and former Mainland Affairs Council chairman Su Chi.
Photo: Lo Pei-der, Taipei Times
Ma served as MAC deputy chairman from 1991 to 1993.
Huang on Wednesday stated his party's intention to pursue legal action against Ma after China's Taiwan Affairs Office spokesman Yang Yi (楊毅) that day expressed approval for Ma's proposed cross-strait peace accord.
Huang said he suspected the office's positive response to Ma's proposal was because there was an under-the-table dialogue between Ma and Beijing.
Huang yesterday accused Ma and Su of treason, forgery and defamation, saying they had violated Article 104 of the Criminal Code, which stipulates: "A person who colludes with a foreign state or its agent with the intention of subjecting territory of the Republic of China to such a state or another state shall be punished with death or life imprisonment."
The Chinese Nationalist Party (KMT) defines the so-called "1992 consensus" as a tacit agreement between Taipei and Beijing that there is "one China," whose meaning is open for each side to interpret. The KMT would interpret "one China" as the Republic of China on Taiwan, while Beijing would define it as the People's Republic of China.
Huang said Ma touted the consensus, which is operated in the context of the "one China" principle, in his inauguration speech on May 20, 2008, to "pave the way for possible Chinese annexation in the future."
The "one China" principle is China's scheme to eliminate Taiwan's sovereign status, Huang added.
Huang said he had no choice but to file the suit on the eve of the 19th anniversary of the 1992 meeting between Taipei and Beijing, which was held in Hong Kong, because the false consensus had put Taiwan's sovereignty at risk, distorted history and tarnished his reputation.
Agreements inked by Ma and Beijing during his term were either incompatible with WTO regulations or they made cross-strait relations "domestic issues" by prohibiting displays of Taiwan's national flag and portraying cross-strait air and shipping routes as "domestic," he said.
The negotiations that the Ma administration held to join the WHO and the World Health Assembly, the WHO's decisionmaking body, also showed that Ma had given China leeway to recognize Taiwan as a province of China, Huang added.
A number of pro-independence groups attended the press conference to back Huang.
In response, Ma's re-election campaign office dismissed the TSU's lawsuit and said the TSU should bring the same charge against Democratic Progressive Party (DPP) Chairperson Tsai Ing-wen (蔡英文) for making a similar proposal.
Ma's campaign spokesperson Ma Wei-kuo (馬瑋國) said Huang was trying to distort Ma's efforts as "pro-China," adding that Huang should also file a lawsuit against Tsai because she had proposed establishing a mechanism to promote cross-strait peace in 2004 when she served as MAC vice chairperson.
Ma Wei-kuo said the DPP's presidential candidate reiterated her proposal to establish a stable mechanism for cross-strait peace last month.
"President Ma made it clear that the government would make Taiwan and the interests of Taiwanese the priority while promoting cross-strait policies. If the TSU wants to malign the president's efforts, it should also sue Tsai for the same allegation," she said.
Additional reporting by Mo Yan-chih
Comments will be moderated. Keep comments relevant to the article. Remarks containing abusive and obscene language, personal attacks of any kind or promotion will be removed and the user banned. Final decision will be at the discretion of the Taipei Times.