Ma sets up headquarters in Pingtung, touts reduced prices of cooking wine
President Ma Ying-jeou (馬英九) yesterday set up his campaign headquarters in Pingtung County as he continued campaigning in southern Taiwan to strengthen support in the nation's pan-green strongholds.
Ma, who is seeking re-election in January, defended the government's achievement in reviving the local economy through improved cross-strait relations and promised to build a clean government against any form of corruption if re-elected.
"The launch of cross-strait direct flights and other cross-strait exchanges helped exports of fish and agricultural products to the mainland [China] ... This shows that the right policy and the right leader will bring happiness to its people," he said.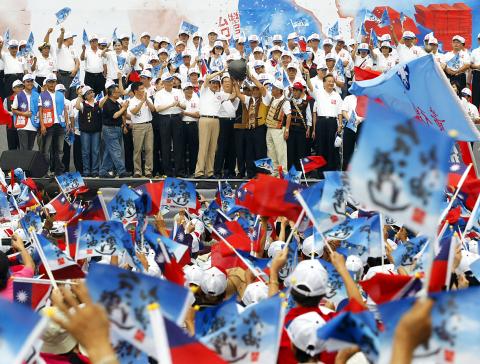 Aboriginal representatives present President Ma Ying-jeou, center stage, with a gift at the opening of his Pingtung County presidential election headquarters yesterday.
Photo: CNA
Ma's running mate, Premier Wu Den-yih (吳敦義), stressed the integrity of Ma and government officials, urging local residents to vote and support their determination on building a "clean government."
With the aim of expanding their support in the south, Ma and Wu yesterday traveled around the county to campaign for Chinese Nationalist Party (KMT) legislative candidates before returning to New Taipei City (新北市) to meet veteran military police groups.
Attending a campaign event for KMT Aboriginal legislative candidate Chien Tung-ming (簡東明), Ma promised to pass a proposed Aboriginal autonomy act as soon as possible and budget more for ensuring the rights of Aborigines.
He also reiterated the government's success in bringing down the price of rice wine, a popular cooking ingredient used in Taiwanese cuisine, from NT$180 to NT$25 a bottle.
Dismissing criticism by the Democratic Progressive Party (DPP) that his administration was focusing on small things, Ma said issues like the price of rice wine were a concern of every citizen.
"Why couldn't the DPP administration solve such a small problem? The key is that we care about the basic things and feel the people's pain," he said.
With the elections approaching, Ma and Wu will use the weekends to make frequent trips to the central and southern parts of the country to consolidate support.
Upon his return from a trip to Japan yesterday, executive director of Ma's re-election campaign King Pu-tsung (金溥聰) said the campaign would focus on the integrity of its candidates, adding that cross-strait policies would also be a major issue leading up to the presidential election.
King continued to question DPP vice-presidential candidate Su Jia-chyuan's (蘇嘉全) integrity over the controversy surrounding his farmhouse in Pingtung County and urged Su not to avoid public scrutiny of the legality of his farmhouse.
Su announced last week that he and his wife would donate the farmhouse to put an end to the controversy.
Comments will be moderated. Keep comments relevant to the article. Remarks containing abusive and obscene language, personal attacks of any kind or promotion will be removed and the user banned. Final decision will be at the discretion of the Taipei Times.