Three women share this year's Nobel Peace Prize
FIGHTERS: Liberia's 'Iron Lady' Ellen Johnson Sirleaf, Liberian 'peace warrior' Leymah Gbowee and Yemeni 'Arab Spring' heroine Tawakkul Karman were honored
Liberian President Ellen Johnson Sirleaf, her compatriot and "peace warrior" Leymah Gbowee and Yemen's Arab Spring activist Tawakkul Karman won the Nobel Peace Prize yesterday.
The three women will share this year's award "for their non-violent struggle for the safety of women and for women's rights to full participation in peace-building work," Norwegian Nobel Committee president Thorbjoern Jagland said in his announcement. "We cannot achieve democracy and lasting peace in the world unless women obtain the same opportunities as men to influence developments at all levels of society."
Sirleaf, 72, made history when she became Africa's first elected woman president in 2005. She took over a nation traumatized by 14 years of brutal civil war that left 250,000 dead and economic devastation, with no electricity, running water or infrastructure.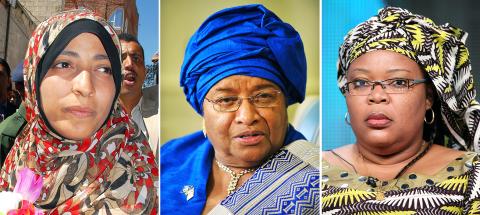 A combination of three recent photos shows (from left) Yemen's Arab Spring activist Tawakkul Karman, Liberian President Ellen Johnson Sirleaf and Liberian "peace warrior" Leymah Gbowee who won the 2011 Nobel Peace Prize the jury announced yesterday.
Photo: AFP
Liberia's "Iron Lady" won her Nobel just four days before she is set to face elections in her bid for a new term.
The Nobel Committee paid tribute to Sirleaf for her contribution "to securing peace in Liberia, to promoting economic and social development, and to strengthening the position of women."
Sirleaf's rise to power may not have been possible without the work of 39-year-old activist Gbowee.
She led Liberia's women to defy feared warlords, and pushed men toward peace by inspiring a large group of both Christian and Muslim women to wage a sex strike in 2002 during one of Africa's bloodiest wars.
The Nobel Committee hailed Gbowee for having "organized women across ethnic and religious dividing lines to bring an end to the long war in Liberia, and to ensure women's participation in elections."
Her campaign called for an immediate ceasefire, dialogue between the government and the rebels, and the deployment of an intervention force at a time when a handful of peace agreements had failed.
In 2003, under Gbowee's leadership, the group managed to force a meeting with then-president Charles Taylor, getting him to promise he would attend peace talks in Ghana.
Later, she mobilized women to vote in an election which saw Sirleaf become Africa's first elected female president.
Tawakkul Karman is a 32-year-old Yemeni journalist and activist who has braved several stints in prison in her struggle for women's rights, press freedom and the release of political prisoners in her country.
The Nobel jury hailed her for "in the most trying circumstances, both before and during the 'Arab Spring' ... [playing] a leading part in the struggle for women's rights, and for democracy and peace in Yemen."
Karman, the first-ever Arab woman to receive the honor, told al-Arabiya TV that she wanted to "dedicate it to all the activists of the Arab Spring," — a reference to the protesters who took to the streets in several Arab countries demanding democracy.
Comments will be moderated. Keep comments relevant to the article. Remarks containing abusive and obscene language, personal attacks of any kind or promotion will be removed and the user banned. Final decision will be at the discretion of the Taipei Times.