N Korea said ready to halt nuclear missile tests
SIBERIAN SUMMIT: Kim Jong-il and Russian President Dmitry Medvedev held talks at a military base, discussing the North's weapons programs and a gas pipeline
North Korea is ready to impose a moratorium on nuclear missile tests if international talks on its nuclear program resume, a spokesman for Russia's president said yesterday after talks between the two leaders.
Russian news agencies, meanwhile, reported that North Korean leader Kim Jong-il said his country was ready to resume talks "without preconditions."
Kim yesterday met Russian President Dmitry Medvedev on a military base near the city of Ulan-Ude in eastern Siberia in Kim's first trip to Russia since 2002.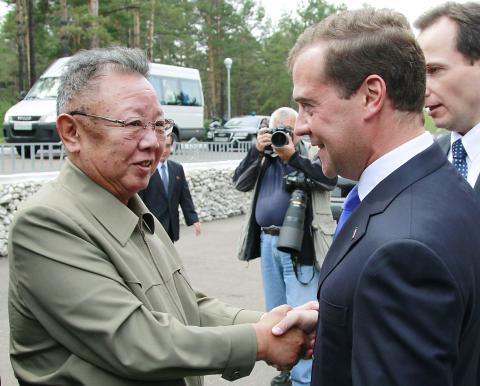 Russian President Dmitry Medvedev, right, yesterday welcomes North Korean leader Kim Jong-il, left, to the Sosnovy Bor military garrison near Ulan-Ude, Siberia.
Photo: EPA
The six-sided nuclear talks have been long-stalled, but Kim's trip comes as his country pushes to restart them. South Korea and Washington have demanded that the North first show its sincerity on fulfilling past nuclear commitments.
Medvedev spokeswoman Natalya Timakova was quoted by the ITAR-Tass news agency as saying that Kim expressed readiness to return to the six-sided talks without preconditions and "in the course of the talks, North Korea will be ready to resolve the question of imposing a moratorium on tests and production of nuclear missile weapons."
Medvedev said Russia and North Korea also moved forward on a proposed project to ship natural gas to South Korea through a pipeline that crosses the North.
Medvedev, in comments on Russian television, said the two countries would create a special commission to "define concrete parameters for bilateral cooperation on gas transit." He said the proposed pipeline would have an annual capacity of about 10 billion cubic meters.
The two leaders also discussed restructuring North Korea's Soviet-era debt to Russia, a Kremlin official said, speaking on condition of anonymity.
Russian Deputy Finance Minister Sergei Storchak told Russian news agencies that debt totaled about US$11 billion.
North Korea is believed to have enough weaponized plutonium for at least six atomic bombs and in November last year Pyongyang said it had an uranium enrichment program that can give it a second way to make atomic bombs. North Korea has carried out two nuclear tests, in 2006 and 2009, and is believed to be working toward mounting a bomb on a long-range missile.
In March, Russian Deputy Foreign Minister Alexei Borodavkin traveled to Pyongyang and urged North Korean officials to impose a moratorium on nuclear and ballistic missile tests and to allow international monitors back into its main nuclear complex near the capital.
Kim was expected to begin his trip home following the summit.
Comments will be moderated. Keep comments relevant to the article. Remarks containing abusive and obscene language, personal attacks of any kind or promotion will be removed and the user banned. Final decision will be at the discretion of the Taipei Times.