Thaksin allies win Thai election
Allies of Thailand's fugitive former leader Thaksin Shinawatra stormed to victory in elections yesterday, in a remarkable comeback after years of turmoil sparked by his ouster in a military coup.
Thai Prime Minister Abhisit Vejjajiva conceded defeat and congratulated a victorious opposition led by Thaksin's youngest sister, Yingluck Shinawatra, who is now set to become Thailand's first female prime minister.
With 92 percent of votes counted, Puea Thai had won 260 seats out of 500, well ahead of the Democrats with 163, according to the Election Commission.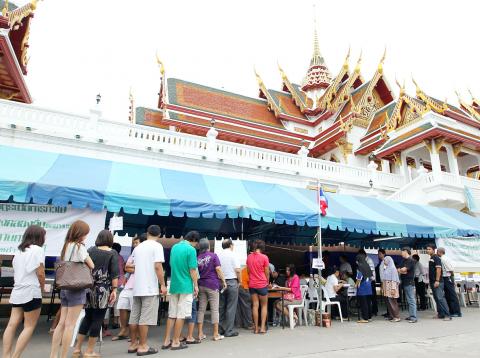 Voters line up to cast their votes at a polling station inside a Buddhist temple in Bangkok yesterday.
Photo: EPA
"The outcome is clear — Puea Thai has won the election and the Democrats are defeated," Abhisit told supporters at the party's Bangkok headquarters.
The poll was the first major electoral test for the elite-backed government since mass demonstrations by Thaksin's "Red Shirt" supporters last year paralyzed Bangkok and unleashed the worst political violence in decades.
A smiling Yingluck earlier addressed jubilant supporters at the Puea Thai Party's headquarters in the Thai capital, saying: "Thaksin has called to congratulate me and said there was a tough job ahead."
"Thank you to the people who came out to vote," added the 44-year-old businesswoman, a political novice who Thaksin has described as his "clone."
Amid fears that an opposition victory could unleash more deadly protests or even another army takeover, Thaksin called on all sides to respect the outcome of the ballot.
"All parties must respect the people's decision, otherwise our country cannot achieve peace," the former billionaire telecoms tycoon told Thai television by telephone from his base in Dubai.
"I think people want to see reconciliation. They want to move forward," he said. "We will not seek revenge."
Toppled by the military in 2006 and now living in self-imposed exile to avoid a jail term for corruption, Thaksin nevertheless dominated the election in Thailand, where he remains a hugely divisive figure.
He is adored by rural voters for his populist policies while in power, such as cheap healthcare and microcredit schemes, but hated by the ruling elite who see him as corrupt, authoritarian and a threat to the revered monarchy.
The election is seen as a major test of the kingdom's ability to emerge from its long political crisis, which has seen years of street protests by Thaksin's Red Shirt supporters and the rival "Yellow Shirt" royalists.
More than 170,000 police were deployed to secure the vote, but it appeared to proceed peacefully. Long lines were seen at polling stations.
Political observers had said that a close result could have fueled a fresh round of street protests or military intervention, but a clear win by the opposition will make it harder for the generals to justify seizing power.
Asked about his plans, Thaksin said yesterday he hoped to see his daughter marry in Thailand in December.
"I don't have to return home soon. I can stay here, but I just really want to attend my daughter's wedding. I don't want to cause trouble by returning home," Thaskin said.
Comments will be moderated. Keep comments relevant to the article. Remarks containing abusive and obscene language, personal attacks of any kind or promotion will be removed and the user banned. Final decision will be at the discretion of the Taipei Times.