Wu announced as Ma's running mate
STAYING ON: The president said Wu Den-yih would not have to stand down as premier for now, while he would continue to consult Vice President Siew for economic advice
President Ma Ying-jeou (馬英九) announced yesterday that Premier Wu Den-yih (吳敦義) would be his running mate in next year's presidential election, adding that Wu would not need to step down as premier to engage in campaign activities.
Lauding Wu as a trusted premier whose administrative capabilities left him at ease, Ma told a news conference that he consulted a number of people on a possible running mate before tapping Wu, a decision he said would be to the country's greatest benefit.
He said that as premier, Wu has demonstrated exceptional leadership and administrative capabilities that have helped improve the efficiency of the central government as well as the private sector's competitiveness, helping it become one of the top 10 in the world in the past two annual IMD World Competitiveness Yearbook rankings.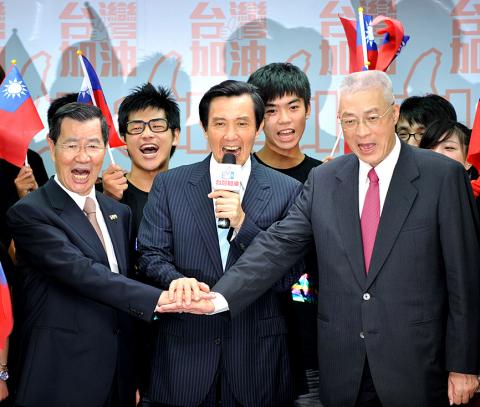 President Ma Ying-jeou, center, joins hands with Vice President Vincent Siew, left, and Premier Wu Den-yih at a press conference in Taipei yesterday.
Photo: Patrick Lin, AFP
Saying that Wu would not need to step down as premier for the time being, Ma added that he "would consider the matter in the future when it becomes necessary."
Asked why he did not choose a person with a strong economic background as his running mate, Ma said his choice of the premier — a trained historian who has been a journalist and served as Kaohsiung mayor — did not mean he would ignore the country's economic development.
"I will continue drawing on Vice President Vincent Siew's (蕭萬長) expertise and experience in the economic field and will keep him on as a top economic planner in my new administration," said Ma, who doubles as chairman of the Chinese Nationalist Party (KMT).
Siew was present at the news conference.
Wu likened his selection as the KMT's vice presidential candidate to going to battle.
"A soldier has no right to choose his battlefield," Wu said. "I'll do my utmost to help President Ma achieve his re-election goal."
Most KMT lawmakers welcomed Ma's choice of Wu as running mate.
KMT Legislator Wu Yu-sheng (吳育昇) said the Ma-Wu ticket is the best possible team the party could field for the presidential race, adding that he believed Wu complemented the president in terms of their political personalities and characteristics.
KMT Legislator Hsieh Kuo-liang (謝國樑) said Ma and Wu have shown that they work well together, but cautioned that it remained to be seen if Wu's addition to the ticket would boost support for Ma.
Democratic Progressive Party (DPP) Legislator Kuan Bi-ling (管碧玲), on the other hand, panned Wu's selection as "lacking creativity" and reflecting the KMT's lack of talent.
"The Ma-Wu ticket is so weak that voters will move their support away from it," Kuan said.
DPP Legislator Gao Jyh-peng (高志鵬) said it was rare that a ruling party would launch its presidential campaign before the opposition did.
"Ma's announcement today that he picked Wu as his running mate indicates that the KMT is really panicking over the 2012 presidential race," Gao said.
Comments will be moderated. Keep comments relevant to the article. Remarks containing abusive and obscene language, personal attacks of any kind or promotion will be removed and the user banned. Final decision will be at the discretion of the Taipei Times.